To gain access to revision questions, please sign up and log in.
a
Antenna Basics
A receiving antenna converts electromagnetic radiation (radio waves) into an alternating current or voltage.
A transmitting antenna converts an alternating current or voltage into electromagnetic radiation (radio waves).
An antenna is a transducer designed to transmit or receive electromagnetic energy (radio waves) to or from the medium of free space.
Antennas are designed to do this as efficiently as possible.
A good transmitting antenna will also be a good receiving antenna.
b
Half Wave Dipole Antenna
One of the most commonly used antennas.
It is half a wavelength long.
This antenna works best when the waves arrive broadside.
End-on the antenna is very inefficient.
The height of the antenna above the ground makes a big difference to the vertical angle of the radiated or received energy.
A horizontal dipole antenna near the ground sends a large part of it's energy vertically upwards. This is ideal for local radio transmissions where the signal bounces off the ionosphere above the transmitter and returns to earth locally.
If the horizontal dipole antenna is placed half a wavelength above the ground, the vertical radiation cancels out with the radiation reflected off the ground. Much less energy goes straight up and more energy radiates at lower angles. This is better for long distance communication reflected off the ionosphere at lower angles.
c
Wavelength and Frequency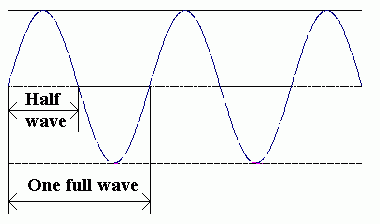 Wavelength - the length in metres of one complete cycle of the wave.
Frequency - the number of cycles per second of the wave measured in Hertz.