To gain access to revision questions, please sign up and log in.
AC Mains
In Europe, the alternating current (AC) mains supply voltage is 230 VRMS. Transformers are used to step mains voltages up or down. This makes it easy to make a low voltage DC power supply. Transformers are also useful for stepping the AC voltage up for long distance transmission over power lines. At the far end of the line, the voltage is stepped down again. High voltage power lines transmit their energy with less waste heat so they are more efficient.
Wire Colours
BROWN LIVE: This wire is cut shorter and is connected to the fuse. This wire carries 230 Volts!
BLUE NEUTRAL: This wire is cut slightly longer. It carries a low voltage.
GREEN/YELLOW STRIPES EARTH:

This wire is for safety and is the most important to get right.
This wire is cut slightly longer so if the wires get pulled out of the plug, this is the last one to fail.
This wire carries zero volts and is connected to the outer case of appliances like toasters or washing machines.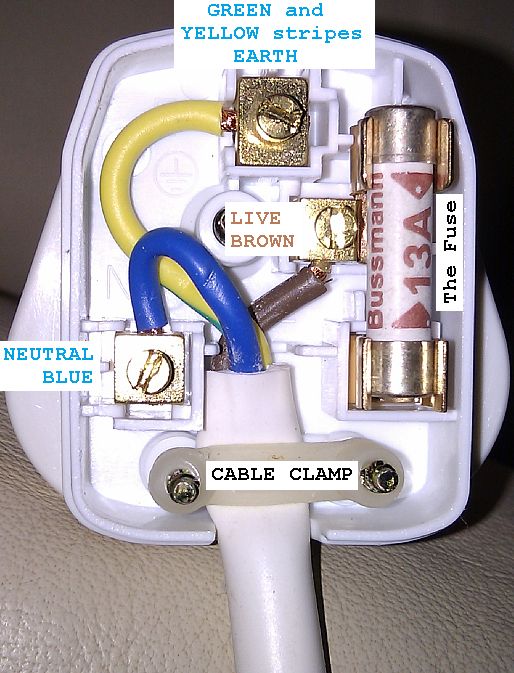 Safety
Make sure the wires are correctly fixed. Getting the Green/Yellow Earth wire wrong can cause fatal electric shocks.
Make sure the wires are tightly screwed in.
Make sure the wires are the right lengths and the insulation is undamaged. There is slight squashing of the blue neutral wire. This is a fault.
There should be no loose wire strands. If you look carefully at the photo, you can see one broken strand on the live brown wire. This is a fault.
Make sure the cable clamp is properly secured.
Selecting The Fuse
There are three common fuse values: 3 Amp, 5 Amp and 13 Amp. The correct fuse should be used for the POWER of the appliance.
Power Calculations
Power = Volts x Amps
Amps = Power / Volts
For a 60 Watt lamp, Amps = 60 / 230 = 0.26 Amps so use the smallest fuse available which is 3 Amps.
For a 2700 Watt kettle, Amps = 2700 / 230 = 11.7 Amps so use a 13 Amp fuse.
For an 800 Watt vacuum cleaner, Amps = 800 / 230 = 3.5 Amps so use a 5 Amp fuse.
reviseOmatic V3 Contacts, ©, Cookies, Data Protection and Disclaimers Hosted at linode.com, London