Driving Logic Gates from an Audio Source
This is NOT and A to D converter - The pulse output can not be converted back into audio!
This is a nice way to use a comparator.
The audio signal from a microphone (or other source) is converted to pulses which can be used to clock 5 Volt TTL (transistor-transistor-logic) or CMOS logic gates. This could be used in ...
a frequency meter
a sound to light machine
The microphone output is connected to both of the Op Amp inputs.
The inverting input has a decoupling capacitor which removes the audio but the DC potential is not affected.
Audio from the microphone on the non inverting input is now amplified by over 100,000 times by the Op Amp (which has a very high open loop gain). This produces an output square wave, switching between about 2 and 10 Volts.
The LED drops the Op Amp output by about 2 Volts ensuring that the transistor can turn off. This signal is used to switch the transistor and 5 Volt logic pulses are produced at the output.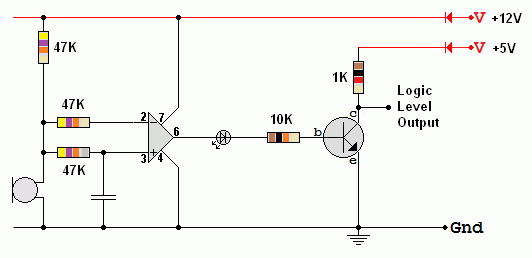 With a sine wave input, a similar square wave should be produced to clock the logic circuits.
With audio signals, rather random square waves are produced. These can be used to clock a sound to light display.
A Possible Circuit Problem: If the DC level from the microphone is too low, the op-amp will not work as a comparator.
This could be fixed by adding a 22 kΩ resistor and a decoupling capacitor between the microphone and ground.
This should raise the DC output without altering the audio signal much.
To make a frequency counter, the output pulses should be counted using a microcontroller or counter chips.