555 Data Sheet from Texas Instruments 555 Monostable in the Lushprojects Simulator - Momentarily click the trigger or reset switches.
The 555 Monostable output is a single accurately timed pulse. There is one stable state.
Key Facts
When triggered, the monostable produces a single accurately timed pulse. The output goes high for the timed period and then goes low again.
The monostable has one stable state and one unstable state.
In the circuit below, the 10k pull-up resistor pulls pin 2 high.
Pressing the switch sends a LOW trigger pulse to pin 2.
This turns on the output for a time T = 1.1 R C
The duration of the output pulse is called its period.
The reset switch can be pressed to end the timing earlier than normal.
How it Works - Exam Answer
The timer starts when the trigger voltage drops below Vs / 3.
The output goes high and the discharge transistor turns off. Trigger pulses are ignored.
C charges through R towards Vs.
When the voltage across C reaches 2/3 of Vs, the timer resets. This takes 1.1 R C Seconds.
The output goes low.
The discharge transistor turns on and quickly discharges C to zero volts.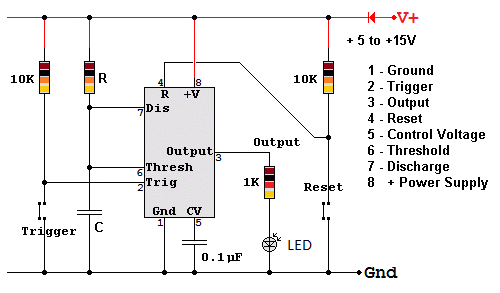 Pulse Time
The square wave output is high for the following period ...
T = 1.1 R C
Timing Diagram

The trigger pulse (a) turns on the output for a fixed time.
Trigger pulse (b) turns the output on again.
Trigger pulse (c) is IGNORED because the output is already on.
Something to Build
This produces a 1.1 second pulse when triggered. The LED should come on for 1.1 seconds. The black wire on the left is an improvised switch.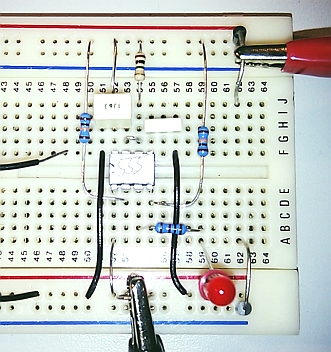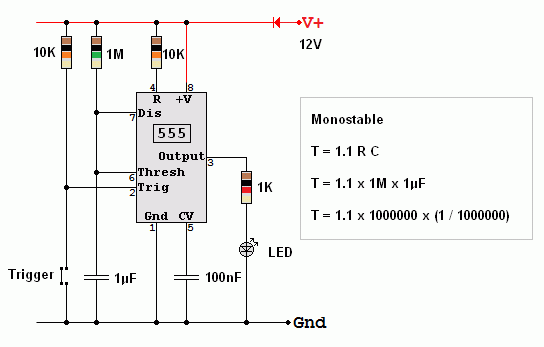 Subject Name Level Topic Name Question Heading First Name Last Name Class ID User ID
Question Text
image url
---
Help Link
Add Delete Clone Edit Hardness
Help Text
Debug
---
You can attempt a question as many times as you like.
If you are logged in, your first attempt, each day, is logged.
To improve your scores, come back on future days, log in and re-do the questions that caused you problems.
If you are logged in, your most recent wrong answers get remembered. This might help you and your teacher to correct your understanding.
In the grade book, you can delete your answers for a topic before re-doing the questions. Avoid deleting unless you intend re-doing the questions very soon.
---