To gain access to revision questions, please sign up and log in.
Definition
Back EMF is the voltage induced when the current in an inductor changes.
The back EMF is proportional to the rate of change of current in the inductor.
Sudden current changes can cause very high and potentially destructive back EMF voltages.
Prevention
A diode in series with the inductor allows the current to die away slowly. This results in small back EMF voltages.
Simulation
This circuit can be simulated using the Falstad Java simulator. Click the switch to turn the current on and off with and without the Back EMF diode in the circuit.
For the Falstad Circuit Simulation, CTRL+Click Falstad Back EMF Simulation
In options, check European Resistors and uncheck Conventional Current.
Click the two switches on and off to see the Back EMF problem and cure.

Alternatively view Back_EMF.txt.
Save or copy the text on the web page. Import the saved or copied text into the Falstad simulator.

Here is the new HTML5 Simulator Site.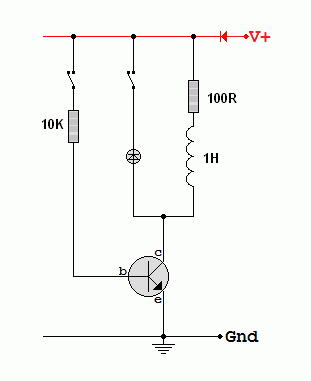 reviseOmatic V3 Contacts, ©, Cookies, Data Protection and Disclaimers Hosted at linode.com, London