AS Level
Semiconductors





Questions 0 to 4
-->
View All
Diodes pass current in one direction only.
Diode Properties
Diodes allow current to flow in only

one direction

.
Forward biased silicon diodes have

0.7 Volts

(700mV) across them.
Diodes protect circuits from incorrect

polarity

power connection.
Electrons flow against the direction of the arrow.
Rectifier diodes

convert A.C. into D.C.

by blocking one direction of current flow.
Diodes protect semiconductors from damage caused by high

back-emf

voltages by allowing the inductor current to die away gradually.
Zener diodes provide an accurate

reference voltage

.
Light emitting diodes

emit light

. D'Oh!
LASER diodes emit

coherent monochromatic light

.
Photo-diodes are used as

light sensors

.
PIN diodes are used as really sensitive and

high speed light sensors

.
Lit LEDs have approximately

2 Volts

across them.
Diodes

demodulate Amplitude Modulated

radio signals.
Diode Symbols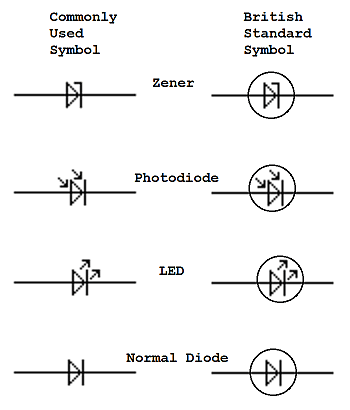 Diode Types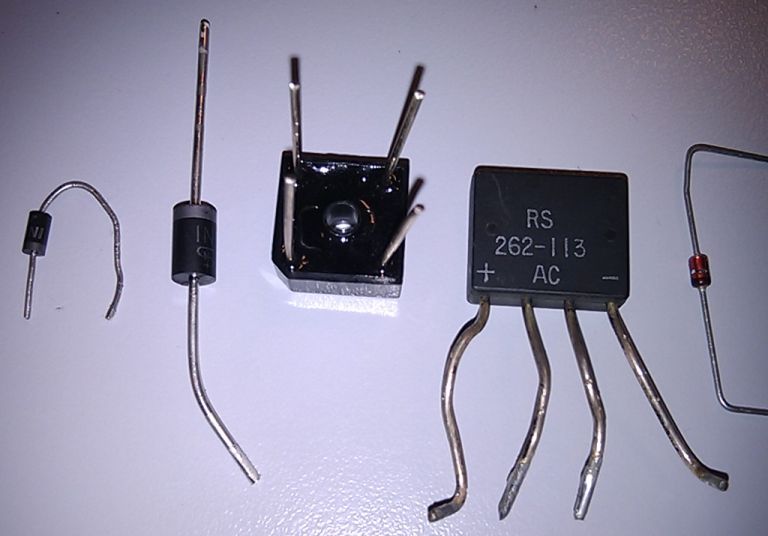 Rectifier (1 Amp)
Rectifier (5 Amp)
Rectifier (Bridge)
Rectifier (Bridge - another one)
Zener Diode (The small one)
Diode Ratings
Diodes have a ...
forward voltage drop of about 0.7 volts (typical silicon diodes)
maximum safe continuous forward current.
maximum safe peak forward current - important for switch-on current surges.
maximum safe reverse breakdown Voltage.
maximum safe heat dissipation.
Normal diodes are destroyed if they break down.
Zener diodes are reverse biased and are designed to operate in their breakdown region without damage.
In high frequency circuits, the diode's capacitance might become important or useful.
Diode Characteristics
The graph below shows the current/voltage characteristics of a typical silicon diode. The reverse leakage current has been exaggerated to make it show on the graph. The forward voltage is about 0.7 volts. The reverse breakdown voltage varies between different diode types. The range of breakdown values goes from a few Volts to over 1000 Volts.
High Current Diode
This is designed to be bolted to a heat sink.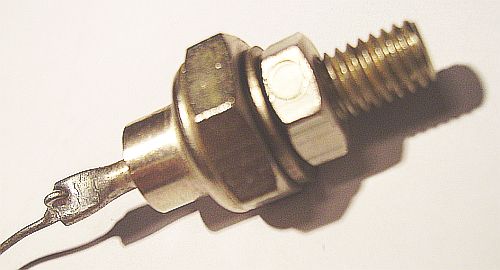 Subject Name Level Topic Name Question Heading First Name Last Name Class ID User ID
Question Text
image url
---
Help Link
Add Delete Clone Edit Hardness
Help Text
Debug
---
You can attempt a question as many times as you like.
If you are logged in, your first attempt, each day, is logged.
To improve your scores, come back on future days, log in and re-do the questions that caused you problems.
If you are logged in, your most recent wrong answers get remembered. This might help you and your teacher to correct your understanding.
In the grade book, you can delete your answers for a topic before re-doing the questions. Avoid deleting unless you intend re-doing the questions very soon.
---