Baxandall Tone Control
This tone control combines adjustable low and high pass filters.
If the treble 100k linear pot' is adjusted with the slider all the way to the left, more high frequency signal reaches the inverting input through the 560pF capacitor. Also less high frequency negative feedback reaches the inverting input. This gives treble boost.

If the slider is adjusted to the right, less high frequency input reaches the inverting input and there is more high frequency negative feedback. This causes treble cut.

The bass 100k linear pot works in a similar way but the low frequency signals are affected giving bass cut or boost.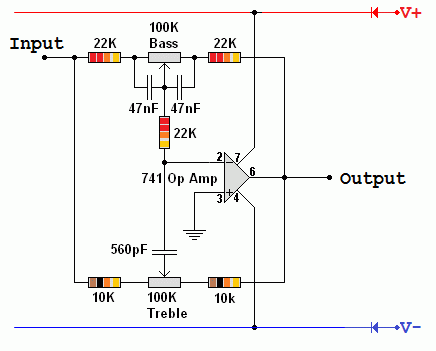 Subject Name Level Topic Name Question Heading First Name Last Name Class ID User ID
Question Text
image url
---
Help Link
Add Delete Clone Edit Hardness
Help Text
Debug
---
You can attempt a question as many times as you like.
If you are logged in, your first attempt, each day, is logged.
To improve your scores, come back on future days, log in and re-do the questions that caused you problems.
If you are logged in, your most recent wrong answers get remembered. This might help you and your teacher to correct your understanding.
In the grade book, you can delete your answers for a topic before re-doing the questions. Avoid deleting unless you intend re-doing the questions very soon.
---