A Level
Instrumentation









Questions 0 to 8
-->
View All
A Bridge Circuit and Difference Amplifier
This circuit is quite common in instrumentation, especially if very small signals need to be processed.
The four resistors on the left make the bridge.
The bridge is BALANCED if all four resistors are exactly equal.
If the bridge is in balance, the amplifier output is zero.
One or more of the resistors will be a sensor.
This set-up is especially useful in the presence of electrical noise.
The amplifier boosts the difference signal and cancels any noise common to both inputs.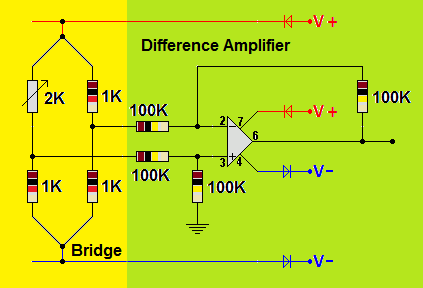 Strain Gauge
For example a strain guage is made from four resistive zones.
If there are no forces acting, all the zones will have equal resistance.
In the presence of a force, some zones have increased and others have decreased resistance.
These gauges are used in weighing scales and also to monitor structures in civil engineering.
If the resistances are influenced by tenperature, they should all be equally affected and the effects should very nearly cancel out. This improves accuracy.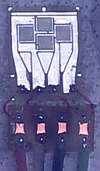 Subject Name Level Topic Name Question Heading First Name Last Name Class ID User ID
Question Text
image url
---
Help Link
Add Delete Clone Edit Hardness
Help Text
Debug
---
You can attempt a question as many times as you like.
If you are logged in, your first attempt, each day, is logged.
To improve your scores, come back on future days, log in and re-do the questions that caused you problems.
If you are logged in, your most recent wrong answers get remembered. This might help you and your teacher to correct your understanding.
In the grade book, you can delete your answers for a topic before re-doing the questions. Avoid deleting unless you intend re-doing the questions very soon.
---