Resistors oppose the free flow of current in a circuit. The current is reduced.

Resistance is measured in Ohms.
Nick Reeder's Resistor Challenge
Circuit Symbols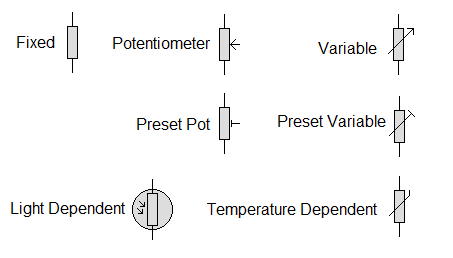 A Simple Circuit
In this simple circuit, the resistor limits the current to a small steady safe level. The switch also has resistance; either zero (on) or infinity (off).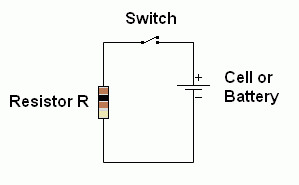 What Resistors Do
Resistors limit the current flowing to a smaller safe level.
Two or more resistors can be used as a voltage divider.
Voltage dividers can use fixed resistors.
Voltage dividers can use thermistors or LDRs to make temperature or light sensors.
Voltage dividers can use potentiometers to make angle sensors.
Voltage dividers can use potentiometers to make volume controls, dimmers, speed controllers and radio control inputs.
A timing resistor is used in conjunction with a capacitor to make a timing circuit.
A pull-up resistor increases the voltage, usually close to the positive power supply voltage.
A pull-down resistor drops the voltage close to zero or perhaps to the negative power supply voltage.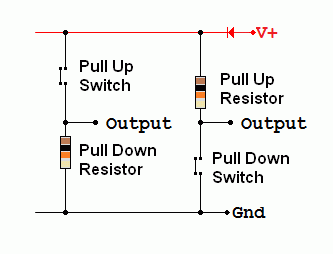 Resistor Structure

A Short Circuit
Without a current limiting resistor, the current is very large and possibly dangerous. There is a fire risk. This is called a short circuit.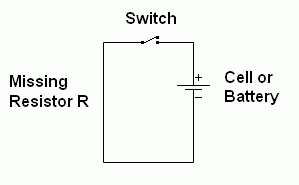 Don't Try This at Home
Subject Name Level Topic Name Question Heading First Name Last Name Class ID User ID
Question Text
image url
---
Help Link
Add Delete Clone Edit Hardness
Help Text
Debug
---
You can attempt a question as many times as you like.
If you are logged in, your first attempt, each day, is logged.
To improve your scores, come back on future days, log in and re-do the questions that caused you problems.
If you are logged in, your most recent wrong answers get remembered. This might help you and your teacher to correct your understanding.
In the grade book, you can delete your answers for a topic before re-doing the questions. Avoid deleting unless you intend re-doing the questions very soon.
---