GCSE
Semiconductors

















Questions 0 to 16
-->
View All
Rectifier diodes convert AC into DC by passing current in one direction only.
In the image below ...
1 amp Rectifier
5 amp Rectifier
Bridge Rectifier - contains 4 diodes
Bridge Rectifier - contains 4 diodes
Zener diode used for voltage regulation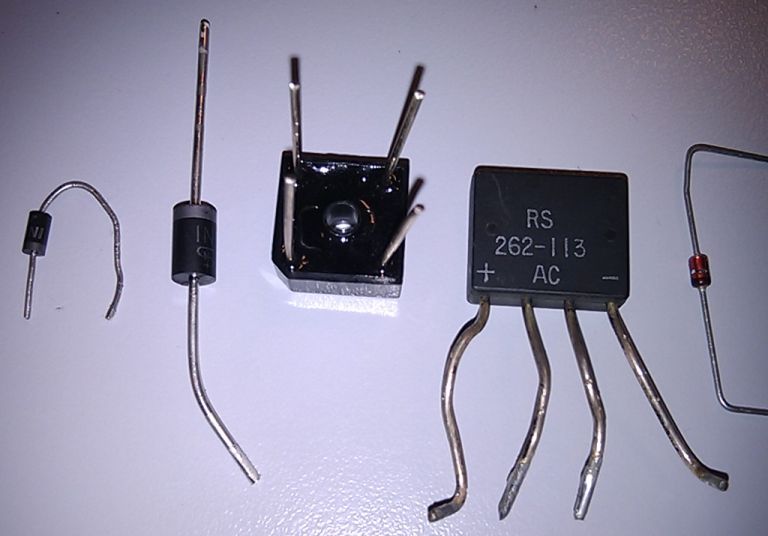 Most electronic circuits need low voltage direct current (DC).
To minimise energy loss in power lines, the power companies use high voltage alternating current (AC) for power distribution. This is because it's possible to step the voltage up or down using transformers. High voltage transmission is more efficient. Power supply circuits step the mains voltage down to a suitable value and produce direct current.
Here are some examples. The transformer steps the voltage down to a suitable low value. The diode/s only pass current in one direction so the AC is converted to DC. The capacitor stores charge and smooths out the raw DC. To get really good smoothing, electronic regulation is needed in addition to the capacitor used to store charge.
DC Power Supply with a Half Wave Rectifier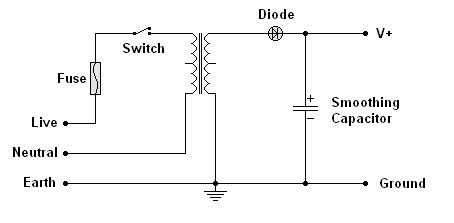 Smoothing - Use a Big Capacitor
These sketches show ...
AC
Half Wave DC
Almost Smooth DC. To get smoother DC, use a bigger smoothing capacitor.
Smooth DC with a Voltage Regualtor Circuit
Subject Name Level Topic Name Question Heading First Name Last Name Class ID User ID
Question Text
image url
---
Help Link
Add Delete Clone Edit Hardness
Help Text
Debug
---
You can attempt a question as many times as you like.
If you are logged in, your first attempt, each day, is logged.
To improve your scores, come back on future days, log in and re-do the questions that caused you problems.
If you are logged in, your most recent wrong answers get remembered. This might help you and your teacher to correct your understanding.
In the grade book, you can delete your answers for a topic before re-doing the questions. Avoid deleting unless you intend re-doing the questions very soon.
---