GCSE
Semiconductors

















Questions 0 to 16
-->
View All
Power Generation
Photodiodes produce a voltage when light shines on them. This is how solar cells work. Solar cells are arrays of large numbers of photodiodes. They have a large surface area and coatings to maximise light absorption. This is the best arrangement for generating power.
Light Detection
If a reverse leakage current is flowing in the photodiode, this current is greatly increased by incident light. This is the best arrangement for detecting light.
Simple Detector
A typical photodiode is the BPW41N. Here is a diagram showing the pinout and typical component values. Note that the diode is reverse biased and its operation relies on leakage current caused by incident light.
The current through the diode is about 0.5 µA in the dark rising to 100 µA when brightly lit by infra red light.
Here is a layout and circuit diagram showing typical component values for the BPW41N detector.
On the right is an Op Amp, current to voltage converter. It converts the diode leakage current into a voltage.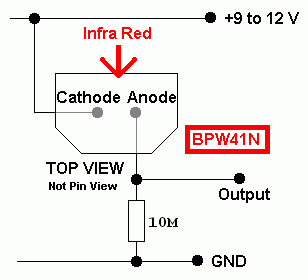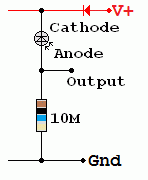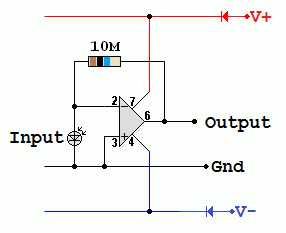 Op Amp Detector / Receiver for Infra Red Amplitude Modulation

R1 and R2 form a voltage divider. This allows the 741 Op Amp to be used without a negative supply.
C1 is a decoupling capacitor. This ensures the voltage divider output is steady with no AC signals present.
The photodiode passes almost no current in the dark.
When lit, a leakage current flows.
The 741 inverting input is a virtual earth.
When the diode leakage current flows, the output voltage alters to maintain the virtual earth.
Vout = Leakage Current x R3.
If R3 is made bigger, the circuit becomes more sensitive but there is also more noise (a hissing sound).
C2 is a coupling capacitor.
AC signals from the 741 chip are passed to the LM386 Audio Amplifier.
DC signals are blocked.
The Potentiometer is used as a volume control coltage divider.
C4 is a coupling capacitor.
It couples the audio output to the loudspeaker while blocking the DC voltage.
C3 and R4 make an equalisation circuit.
This is needed to prevent high frequency oscillations in the LM386 amplifier.
C5 is a power supply decoupling capacitor.
It prevents low frequency oscillations in this circuit.
Subject Name Level Topic Name Question Heading First Name Last Name Class ID User ID
Question Text
image url
---
Help Link
Add Delete Clone Edit Hardness
Help Text
Debug
---
You can attempt a question as many times as you like.
If you are logged in, your first attempt, each day, is logged.
To improve your scores, come back on future days, log in and re-do the questions that caused you problems.
If you are logged in, your most recent wrong answers get remembered. This might help you and your teacher to correct your understanding.
In the grade book, you can delete your answers for a topic before re-doing the questions. Avoid deleting unless you intend re-doing the questions very soon.
---