The summing amplifier adds the input voltages together after scaling them according to the input resistor values.
Summing Amplifier in the Lushprojects Simulator
Vout = - Rf ( V1/R1 + V2/R2 + V3/R3 )
The gain of each input depends on Rf and the input resistor.
Rf provides negative feedback.
The inverting input labelled "P" is a Virtual Earth.
The virtual earth comes about as follows ...
The op' amp' has a very high open loop gain.
If the op' amp' is not saturated and the output is a few volts, it follows that the potential at P is a few microvolts.
This is a very small voltage (close to zero) so it's called a virtual earth.
The Summing Circuit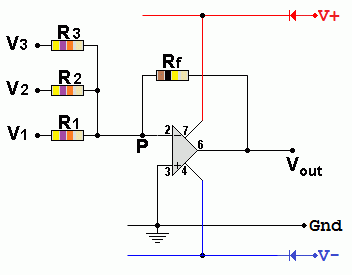 Applications include ...
mixing audio signals
adding input voltages
digital to analogue conversion Summing DAC
Subject Name Level Topic Name Question Heading First Name Last Name Class ID User ID
Question Text
image url
---
Help Link
Add Delete Clone Edit Hardness
Help Text
Debug
---
You can attempt a question as many times as you like.
If you are logged in, your first attempt, each day, is logged.
To improve your scores, come back on future days, log in and re-do the questions that caused you problems.
If you are logged in, your most recent wrong answers get remembered. This might help you and your teacher to correct your understanding.
In the grade book, you can delete your answers for a topic before re-doing the questions. Avoid deleting unless you intend re-doing the questions very soon.
---