AS Level
Basic Electronics






Questions 0 to 5
-->
View All
Electronics is the study of electrons and their properties in a wide variety of materials.
Electronics is all about communication, signal processing, computation, measurement and control.
Much of modern life relies on Electronics.
Communication
Data Processing

Computers for business and leisure
Gaming
Music, Photos, Video, Virtual reality, Augmented reality

Automation

Robotics
Factory production
Warehousing
Self drivng vehicles
Vehicle engine management

Measurement

Position using GPS for navigation in roads, rail, air, sea and outer space
Hospital diagnostic machinery
Environmental monitoring
LASER "tape measure"

Heating

Filament light bulbs
Electric heaters
Conventional Cookers
Microwave Ovens

Power generation

Heliostat heat capture for power generation
Photo voltaic cells
Wind turbines
Tidal
Hydroelectric
Fossil fuels
Nuclear
Shock and Awe - The Story of Electricity - This three hour documentary is essential viewing for electronics students.
Electronics has Jokes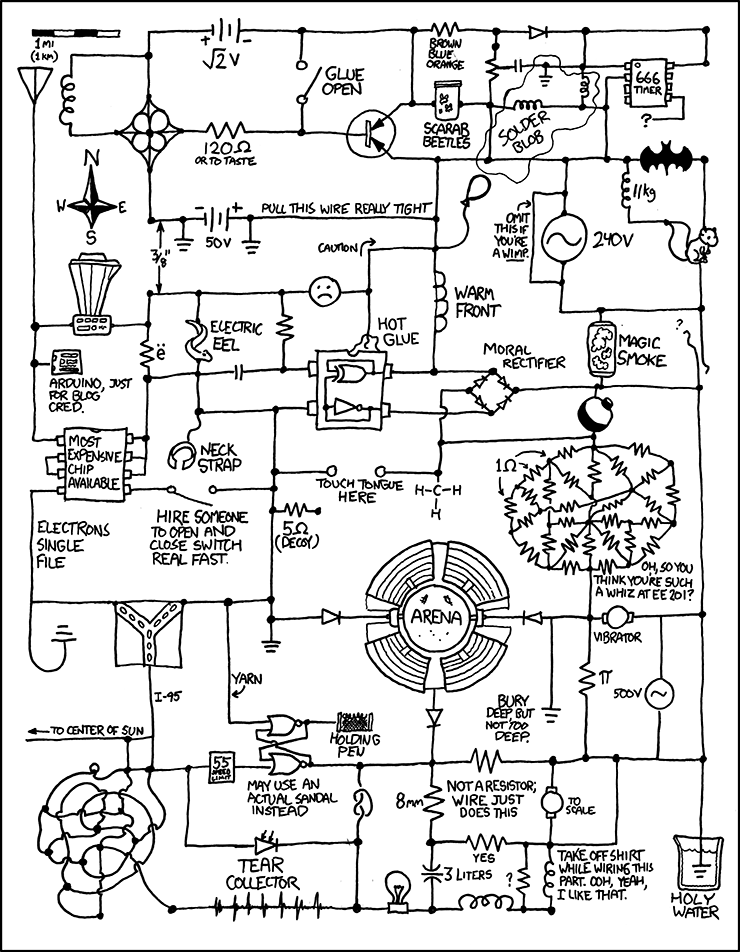 Thanks xkcd
Subject Name Level Topic Name Question Heading First Name Last Name Class ID User ID
Question Text
image url
---
Help Link
Add Delete Clone Edit Hardness
Help Text
Debug
---
You can attempt a question as many times as you like.
If you are logged in, your first attempt, each day, is logged.
To improve your scores, come back on future days, log in and re-do the questions that caused you problems.
If you are logged in, your most recent wrong answers get remembered. This might help you and your teacher to correct your understanding.
In the grade book, you can delete your answers for a topic before re-doing the questions. Avoid deleting unless you intend re-doing the questions very soon.
---