Extras Non Exam
Control Systems













Questions 0 to 12
-->
View All
Control System Damping
Closed loop control systems don't always work as well as they ought to.
The problems are caused by electronic and more often by mechanical inertia and delays.
These graphs show some of the problems.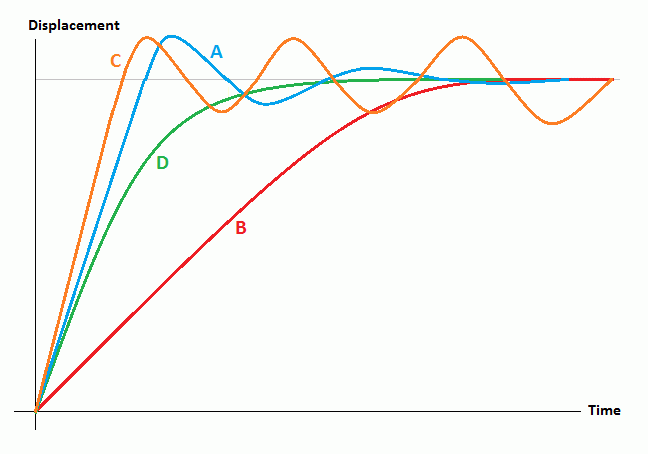 Graph B shows an over damped system. It takes too long to reach a steady state.
Graph D shows a critically damped control system. It reaches a steady state in the shortest possible time without overshooting.
Graph A shows an under damped system. This one overshoots before eventually settling down.
Graph C is the worst. In this case it overshoots and never settles. This is called hunting.
Often the critically damped case is the best choice. Graph A, under damped, can be better if the goal is to get the control system to within, say, 20% of the target as fast as possible and some overshoot and oscillation can be tolerated.
Subject Name Level Topic Name Question Heading First Name Last Name Class ID User ID
Question Text
image url
---
Help Link
Add Delete Clone Edit Hardness
Help Text
Debug
---
You can attempt a question as many times as you like.
If you are logged in, your first attempt, each day, is logged.
To improve your scores, come back on future days, log in and re-do the questions that caused you problems.
If you are logged in, your most recent wrong answers get remembered. This might help you and your teacher to correct your understanding.
In the grade book, you can delete your answers for a topic before re-doing the questions. Avoid deleting unless you intend re-doing the questions very soon.
---