A Level
Modulation























Questions 0 to 22
-->
View All
Pulse Position Modulation
The pusle position, relative to clock pulses, is proportional to the information signal.
A stream of pulses is needed.
The fixed width pulses are delayed (relative to a regular clock pulse) by an amount that is proportional to the level of the signal (in red) to be modulated.
The light grey arrows show the size of the delay.
The red blobs show the moment when the signal is sampled (measured).
The vertical gray/orange lines are the regularly spaced sample time intervals.
The blue pulses are delayed relative to these regularly spaced intervals.
The delay is proportional to the level of the signal being transmitted.
The sample level is shown by the orange arrows.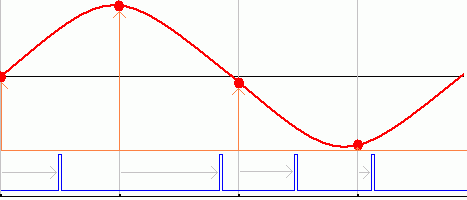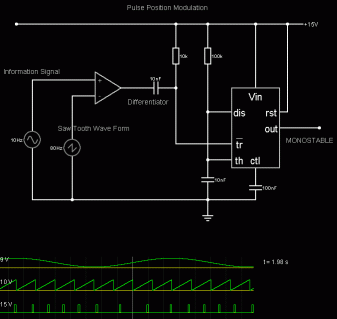 Subject Name Level Topic Name Question Heading First Name Last Name Class ID User ID
Question Text
image url
---
Help Link
Add Delete Clone Edit Hardness
Help Text
Debug
---
You can attempt a question as many times as you like.
If you are logged in, your first attempt, each day, is logged.
To improve your scores, come back on future days, log in and re-do the questions that caused you problems.
If you are logged in, your most recent wrong answers get remembered. This might help you and your teacher to correct your understanding.
In the grade book, you can delete your answers for a topic before re-doing the questions. Avoid deleting unless you intend re-doing the questions very soon.
---