To gain access to revision questions, please sign up and log in.
Key Facts
When triggered, the monostable produces a single accurately timed pulse. The output goes high for the timed period and then goes low again.
The monostable has one stable state and one unstable state.
In the circuit below, the 10k pull-up resistor pulls pin 2 high.
Pressing the switch sends a LOW trigger pulse to pin 2.
This turns on the output for a time T = 1.1 R C
The duration of the output pulse is called its period.
The reset switch can be pressed to end the timing earlier than normal.
How it Works - Exam Answer
The timer starts when the trigger voltage drops below Vs / 3.
The output goes high and the discharge transistor turns off. Trigger pulses are ignored.
C charges through R towards Vs.
When the voltage across C reaches 2/3 of Vs, the timer resets. This takes 1.1 R C Seconds.
The output goes low.
The discharge transistor turns on and quickly discharges C to zero volts.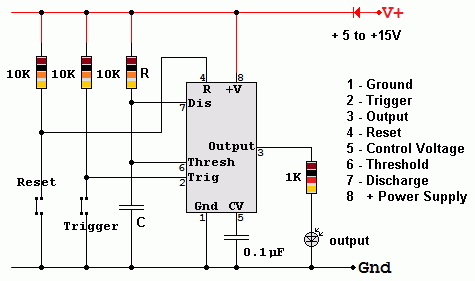 Pulse Time
The square wave output is high for the following period ...
T = 1.1 R C
Timing Diagram

The trigger pulse (a) turns on the output for a fixed time.
Trigger pulse (b) turns the output on again.
Trigger pulse (c) is IGNORED because the output is already on.
Something to Build
This produces a 1.1 second pulse when triggered. The LED should come on for 1.1 seconds. The black wire on the left is an improvised switch.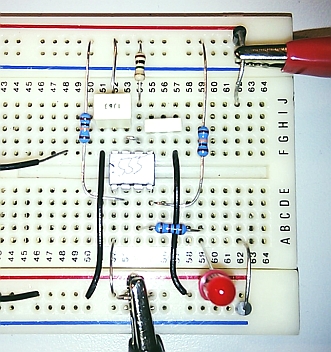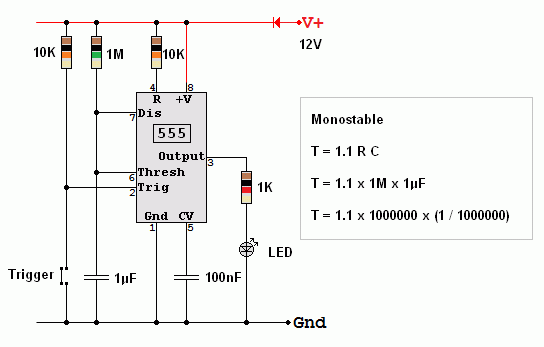 Falstad Simulation
For the Falstad Circuit Simulation, CTRL+Click 555 Monostable
In options, check European Resistors and uncheck Conventional Current.
Click the logic input low and high again to trigger the monostable.

Alternatively view 555_Monostable.txt.
Save or copy the text on the web page. Import the saved or copied text into the Falstad simulator.

Here is the new HTML5 Simulator Site.
reviseOmatic V3 Contacts, ©, Cookies, Data Protection and Disclaimers Hosted at linode.com, London