To gain access to revision questions, please sign up and log in.
This shows how traffic lights could be timed using a 4017 chip.
The diodes are being used as OR gates.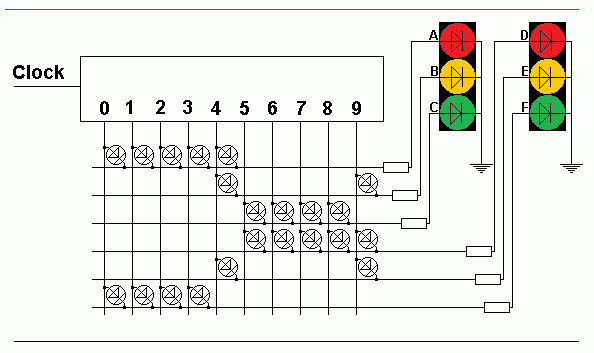 When output 0 is high, lamps A and F will be lit. Trace the wiring through the diodes to see why this is.
There are problems with this circuit though.
The 4017 chip can not drive bright lights so driver circuits will be needed.
The timing will not be right. This circuit gives longer red and green times but not really long enough.
A better method is needed to make the red and green times much longer than the amber times.
Morse Code - Letter R
Here is a similar but simpler circuit that makes the letter "R" in Morse code.
The diodes provide the logical OR function so pins 0, 2, 3, 4 OR 6 activate the Morse buzzer.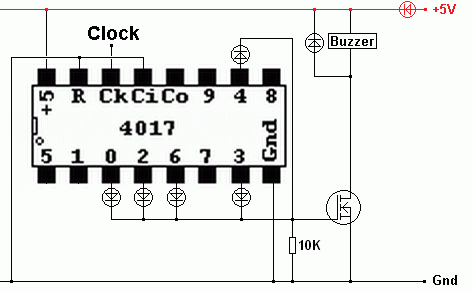 For the Falstad Circuit Simulation, CTRL+Click Morse Code - Letter "r"
In options, check European Resistors and uncheck Conventional Current.

Alternatively view Morse_Code_R.txt.
Save or copy the text on the web page. Import the saved or copied text into the Falstad simulator.

Here is the new HTML5 Simulator Site.
reviseOmatic V3 Contacts, ©, Cookies, Data Protection and Disclaimers Hosted at linode.com, London