To gain access to revision questions, please sign up and log in.
Light Amplification by the Stimulated Emission of Radiation - LASER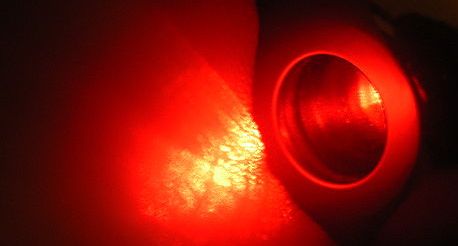 Photons are emitted when excited electrons lose energy in the form of electromagnetic radiation. In most light sources, photons are produced randomly with many different wavelengths. To produce LASER light, the photons must all ...
have the same wavelength / colour ( be monochromatic )
be in phase with each other ( be coherent )
This is achieved by generating photons between two almost perfect mirrors that trap nearly all the light energy bouncing back and forth between the mirrors. This sets up a standing wave and new photons are produced in phase with this. A small proportion of the light is allowed to escape in a narrow beam.
LASER Diodes
Produce monochromatic light - this suffers less dispersion than multi-coloured light.
Produce coherent light - all the photons are in phase with each other
Produce brighter light than most other sources such as LEDs
Produce a narrow beam - ideal for sending down the fibre optic link
Can be keyed on and off at extremely high rates - ideal for sending digital data
The only down-side is their higher cost.
reviseOmatic V3 Contacts, ©, Cookies, Data Protection and Disclaimers Hosted at linode.com, London