To gain access to revision questions, please sign up and log in.
Switches and Followers:
Emitter Follower
The Voltage Gain is One
But the current and power gain can both be very large.
Ideal Device: Vout = Vin
Real Life Device: Vout = Vin - 0.7
The input resistance is very large.
The output resistance is small.
The output is well isolated from the input.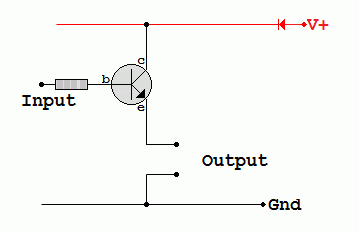 B = BASE.
C = COLLECTOR.
E = EMITTER.
The base input resistor is not always needed.
Transistors in this configuration are usually controlling quite large currents so they will be bolted to a heat sink.
This circuit can be used in push-pull amplifiers (MOSFETS are usually preferred). An NPN and a PNP transistor must be used.
reviseOmatic V3 Contacts, ©, Cookies, Data Protection and Disclaimers Hosted at linode.com, London