To gain access to revision questions, please sign up and log in.
Switches and Followers:
Source Follower
Source Follower Properties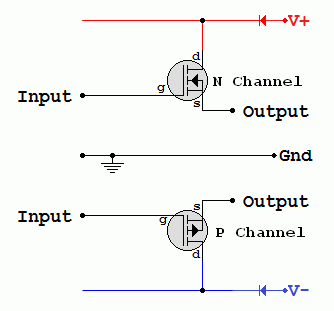 The voltage gain is One.
Current gain is large.
Power gain is large.
s = SOURCE.
g = GATE.
d = DRAIN.
Extremely high input or gate resistance (Close to infinity).
The N Channel device amplifies positive signals.
The P Channel device amplifies negative signals.
Ideal device: Vout = Vin.
A 2 to 4 volt drop depending on the MOSFET.
Real life device: Typical N Channel: Vout = Vin - 2.
Real life device: Typical P Channel: Vout = Vin + 2.
MOSFET Characteristics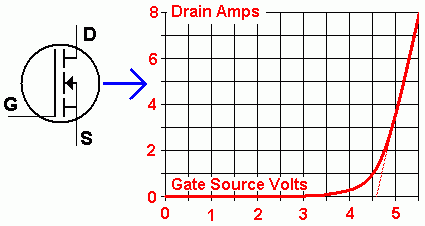 This graph is for a power MOSFET such as the IRF520 device. You can see that the device does not start conducting until the gate voltage is significantly greater than 3 Volts. An ideal MOSFET would give a straight line graph starting from zero. This graph also explains the 2 to 4 Volt drop mentioned above.
Source Follower Power Calculations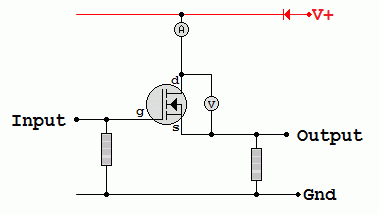 DC Power is calculated using Volts x Amps. This is the current through the MOSFET and the voltage across the MOSFET.
There are three commonly occurring states.
The MOSFET is turned off. The current is zero and the power dissipated = zero.
The MOSFET is saturated.

An ideal MOSFET would have zero volts across it.
Under these conditions the power dissipated is zero again.
A real MOSFET might have 20 mV across it. (This will be in the data sheet or specified in the exam question).
In this case, do the Volts x Amps calculation and expect a small answer.

The third state is where the MOSFET is conducting and not saturated.

This will result in the highest heat dissipation.
Work out Volts x Amps.
A heatsink will often be needed in higher power circuits.
AC Power Calculations
Use the RMS values for the voltage across the MOSFET and the current through the it.
RMS Value = 0.7 x Peak Value
Source Follower Experiment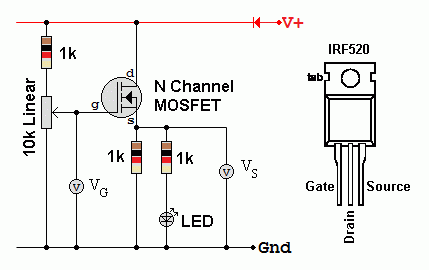 Build this circuit and measure VG and VS.
Plot a graph showing how these are related.
Run the circuit on 12 Volts.
reviseOmatic V3 Contacts, ©, Cookies, Data Protection and Disclaimers Hosted at linode.com, London