To gain access to revision questions, please sign up and log in.
Continuous Wave 40kHz Ultrasound Carrier Generator
This is a 555 Astable circuit. To send Morse code, the reset line on pin 4 could be keyed.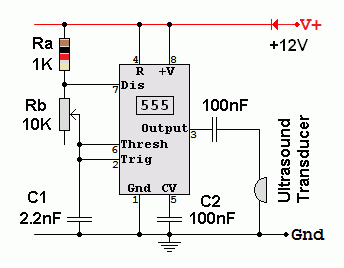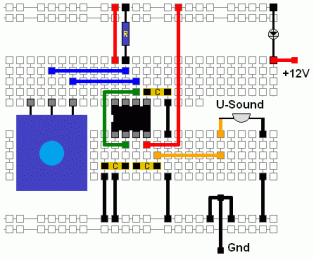 Adjust the 10K Pot for maximum output at 40 kHz.
JPR Electronics supply an ultrasound transmitter/receiver pair, part number 594-058.
The transmitter is marked with "T".
The receiver is marked with "R".
Testing
Look at pin 3 (the output) with an oscilloscope.
Connect the ultrasound receiver (R) to the oscilloscope input and see if you can detect the transmitted signal.
Put the transmitter and receiver close together and adjust the Pot for maximum signal at 40kHz.
See how far away you can move the transmitter and still detect the signal with the oscilloscope.
reviseOmatic V3 Contacts, ©, Cookies, Data Protection and Disclaimers Hosted at linode.com, London