To gain access to revision questions, please sign up and log in.
Extras:
Heterodyne Receiver
Like a Superhet Receiver but the I.F. is Audible
This receiver is based on the SA602 balanced mixer.
The local oscillator is set between 37 and 43 kHz.
The transmission on or very close to 40kHz is mixed down to an audible Intermediate Frequency between 300 and 3000 Hz.
The transmitter and receiver can be set so both the wanted and the unwanted image frequencies are received.
By careful choice of frequencies, the unwanted image can be greatly reduced by the narrow bandwidth of the ultrasound transducers.
The Intermediate Frequency between 300 and 3000 Hz is processed by the computer sound card.
Most superhet (supersonic heterodyne) receivers produce an I.F. well above the range of human hearing.
455kHz or 10.7 MHz are commonly used in AM and FM radio receivers.
This receiver produces and audible I.F. so it's a "Sonic Heterodyne" receiver.
The computer software used to create and decode the data signals is Digital Master 780 which is part of the Ham Radio Deluxe software suite.
The Mark 1 Tested Circuit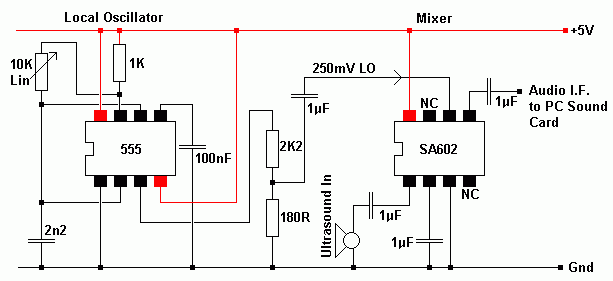 The square wave local oscillator is unusual.
A sine wave without harmonics would normally be preferred and should not be too difficult to design.
As it's unlikely that there are any signals (apart from bats) near the harmonic frequencies, this design simplification should not matter too much.
This two chip design seems to have enough sensitivity to work well across a room.
There is scope for adding an ultrasound preamplifier before the mixer and an audio amplifier after it.
The frequency stability is not perfect but the DM780 software locks on very well.
If either the transmitter or receiver is moved, there is very obvious Doppler shift disrupting some transmission modes.
reviseOmatic V3 Contacts, ©, Cookies, Data Protection and Disclaimers Hosted at linode.com, London