GCSE
Combinational Logic

























































Questions 0 to 56
-->
View All
Schmitt Trigger circuits compare the input voltage with different reference levels for turing On and Off.
HEF40106B Data Sheet from NXP.
Also known as a Schmitt Inverter. The 40106 is a good example.
The power supply must be between 3 and 15 Volts. 5 Volts is typical.
This chip is useful because it solves a common problem.
A light sensor is connected to a normal NOT gate.
When it gets dark, the street lights come on.
When the street lights are on, it gets lighter so the sensor tells the lights to turn off again.
Now it's too dark so they come on again and the lights flash on and off all night (pretty stupid design) and I have seen this in real life!

This is solved by using a Schmitt NOT gate.

When it gets dark, the lights come on.
It gets a bit lighter but not enough to make the lights turn back off.
The next morning, it gets a lot lighter so the lights turn off.
When the lights turn off, it gets a bit darker but not enough to make the lights flash back on again.
This is achieved by having different on On and Off reference voltages.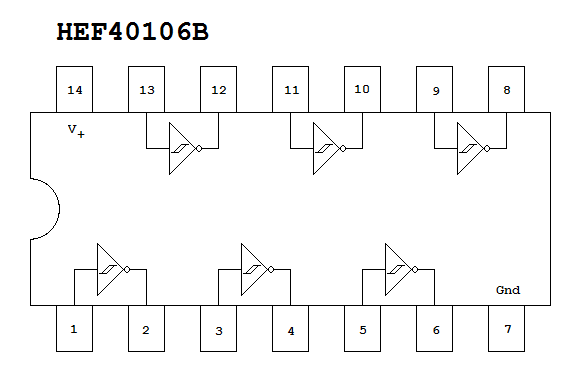 Comparing normal NOT gates with Schmitt NOT gates with a 5 volt power supply.
| | | |
| --- | --- | --- |
| 5 Volt Supply | Normal NOT Gate | Schmitt NOT Gate |
| Low Input | Less than 2.5 Volts | Less than 2.2 Volts ( 43 to 45% of the power supply Voltage ) |
| High Input | More that 2.5 Volts | More than 3.0 Volts. ( 55 to 60% of the power supply Voltage ) |
Compare normal and Schmitt inverters ...
Subject Name Level Topic Name Question Heading First Name Last Name Class ID User ID
Question Text
image url
---
Help Link
Add Delete Clone Edit Hardness
Help Text
Debug
---
You can attempt a question as many times as you like.
If you are logged in, your first attempt, each day, is logged.
To improve your scores, come back on future days, log in and re-do the questions that caused you problems.
If you are logged in, your most recent wrong answers get remembered. This might help you and your teacher to correct your understanding.
In the grade book, you can delete your answers for a topic before re-doing the questions. Avoid deleting unless you intend re-doing the questions very soon.
---