GCSE
Sequential Logic

































Questions 0 to 32
-->
View All
On the rising edge of the clock pulse, the input D is copied to the output Q.
The data is stored until the next rising edge.


At any time, the chip can be SET or RESET with a HIGH pulse on S or R.



This is called edge triggered. If the DATA input changes between clock pulses, this has no effect on the output.
The rising edge of the clock pulse stores the input bit so this flip flop can be used as a data latch (memory).
A single D Type Flip Flop can store one bit.
On the rising edge of the clock pulse,
if D = 1 the circuit is "SET and Q goes high
if D = 0 the circuit is "RESET" and Q goes low.
Not Q is always in the opposite state to Q.
Here is the symbol of a D Type Flip Flop.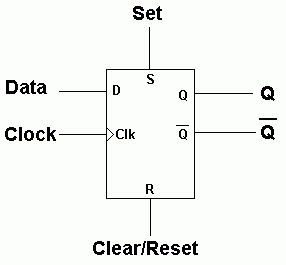 The device can be set or reset at any time by setting the S or R inputs high.
This applies to AQA exam questions and 4000 series gates.
If you use 74xxx gates in your project, these come with

Set

and

Reset

inputs where low signals are needed.

Data Latch
On the rising edge of the clock pulse, the data on D0, D1, D2 and D3 is copied to Q0, Q1, Q2 and Q3.
Data latches are needed to store data that is only available or valid for a short time.
For example data from the parallel port may not be valid for long.
If this data is latched (stored), the latch output remains available for as long as necessary.
The data remains valid until the next clock pulse.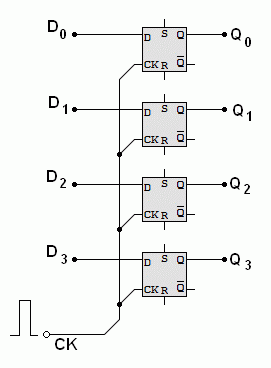 Subject Name Level Topic Name Question Heading First Name Last Name Class ID User ID
Question Text
image url
---
Help Link
Add Delete Clone Edit Hardness
Help Text
Debug
---
You can attempt a question as many times as you like.
If you are logged in, your first attempt, each day, is logged.
To improve your scores, come back on future days, log in and re-do the questions that caused you problems.
If you are logged in, your most recent wrong answers get remembered. This might help you and your teacher to correct your understanding.
In the grade book, you can delete your answers for a topic before re-doing the questions. Avoid deleting unless you intend re-doing the questions very soon.
---