A Level
Microcontrollers





























































































Questions 0 to 92
-->
View All
Chip Architecture is a description of the inner structure of the chip, its buses, its memory and its special function registers.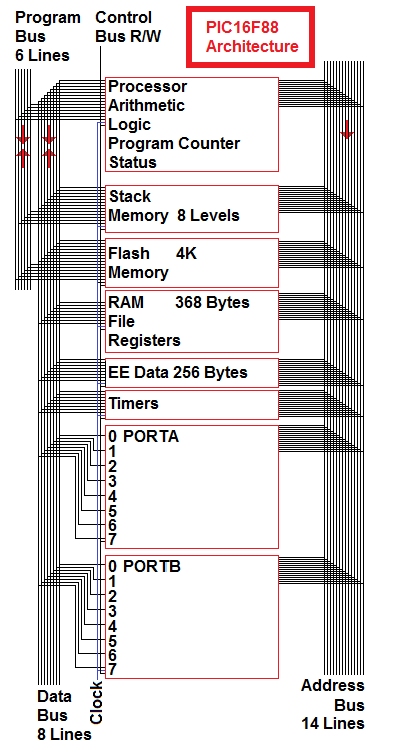 All the chip internals are connected via shared bus wires.
This greatly simplifies the wiring of the chip.
Data is READ into the processor using the DATA BUS.
Date is WRITTEN out of the processor to other locations using the DATA BUS.
The data origin or destination is determined by the ADDRESS on the ADDRESS BUS.
Every location within the microcontroller has its own unique ADDRESS so there is never confusion.
A control bus R/W line informs locations such as the memory
or the ports whether data is to be READ or WRITTEN.
All the internal chip operations are synchronised to the control bus CLOCK line.
The chip uses the HARVARD architecture.

An extra PROGRAM or INSTRUCTION BUS
allows instructions and data to be FETCHED at the same time.
This speeds up the chip greatly compared with Von Neumann
chips without the extra bus.
With Von Neumann chips the instructions and data have to be
fetched in separate steps.
Subject Name Level Topic Name Question Heading First Name Last Name Class ID User ID
Question Text
image url
---
Help Link
Add Delete Clone Edit Hardness
Help Text
Debug
---
You can attempt a question as many times as you like.
If you are logged in, your first attempt, each day, is logged.
To improve your scores, come back on future days, log in and re-do the questions that caused you problems.
If you are logged in, your most recent wrong answers get remembered. This might help you and your teacher to correct your understanding.
In the grade book, you can delete your answers for a topic before re-doing the questions. Avoid deleting unless you intend re-doing the questions very soon.
---