A Level
Microcontrollers





























































































Questions 0 to 92
-->
View All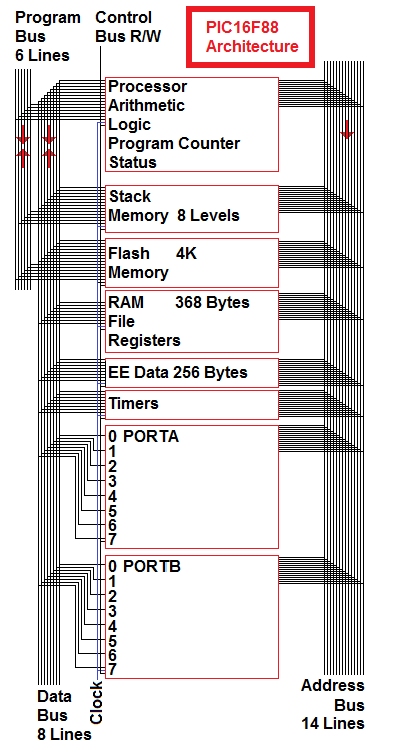 Special Function Registers (SFR) - These are named registers in memory banks 0 and 1

Interrupt Controller: INTCON
Status Flags: STATUS
Program counter: PCL
I/O Ports: PORTA and PORTB
Data direction: TRISA and TRISB

General Purpose Registers - without names

In memory bank 0 ​these are at address from 0x20 to 0x7F.
In memory bank 1 ​these are at address from 0xA0 to 0xFF.
The 16 registers from 0x70 to 0x7F are duplicated in both memory banks.

ROM

Read Only Memory
Non Volatile - retains its data when the power is off.
Can never be erased so it's useful for chip "firmware",
the code that allows the chip to be programmed.

RAM

Random Access Memory
Volatile - data is lost when the power is off.
It's used to store temporary data like measurements from sensors.

Flash

Non volatile memory
It can be erased and re-programmed
It's useful for the code and data tables uploaded into the chip by the programmer.
Subject Name Level Topic Name Question Heading First Name Last Name Class ID User ID
Question Text
image url
---
Help Link
Add Delete Clone Edit Hardness
Help Text
Debug
---
You can attempt a question as many times as you like.
If you are logged in, your first attempt, each day, is logged.
To improve your scores, come back on future days, log in and re-do the questions that caused you problems.
If you are logged in, your most recent wrong answers get remembered. This might help you and your teacher to correct your understanding.
In the grade book, you can delete your answers for a topic before re-doing the questions. Avoid deleting unless you intend re-doing the questions very soon.
---