Compare Switch Types
BJT switches are fast and the transistors are not expensive. A minus point is the current needed to operate the switch.
MOSFETS are even faster but they cost more. A plus point is the minute current needed to operate the switch - nearly zero.
OP-Amp comparators are slow, more expensive, but much more sensitive to input voltage changes.
Logic GATE switches are fast and cheap but not very sensitive to small input voltage changes.
Mechanical switches are less reliable due to the moving parts.
Electromagnetic relays are less reliable due to the moving parts.
Mechanical switches and relays can switch high voltages and currents and also alternating current.
In this circuit a high logic level on the input switches on the N Channel MOSFET and the motor will run.
The diode prevents MOSFET damage due to back emf by allowing the motor current to die away gradually if the MOSFET is suddenly switched off.
A power MOSFET with a heat sink can switch nine amps. Multiple MOSFETS can switch much more current.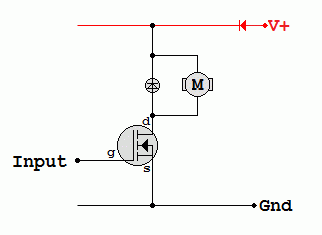 Calculations
The drain (d) current, ID = gM ( VGS - 3 )
The electron flow is always from source to drain and never goes the other way.
gM is called the transconductance ...

It's measured in Amps per Volt. For example increasing VGS by one volt might increase ID by 10 Amps and the transconductance would be 10.
The unit of transconductance (often ignored) is the Mho (Ohm backwards) and the symbol is ℧.
Subject Name Level Topic Name Question Heading First Name Last Name Class ID User ID
Question Text
image url
---
Help Link
Add Delete Clone Edit Hardness
Help Text
Debug
---
You can attempt a question as many times as you like.
If you are logged in, your first attempt, each day, is logged.
To improve your scores, come back on future days, log in and re-do the questions that caused you problems.
If you are logged in, your most recent wrong answers get remembered. This might help you and your teacher to correct your understanding.
In the grade book, you can delete your answers for a topic before re-doing the questions. Avoid deleting unless you intend re-doing the questions very soon.
---