A Touch Sensitive Switch - Three Versions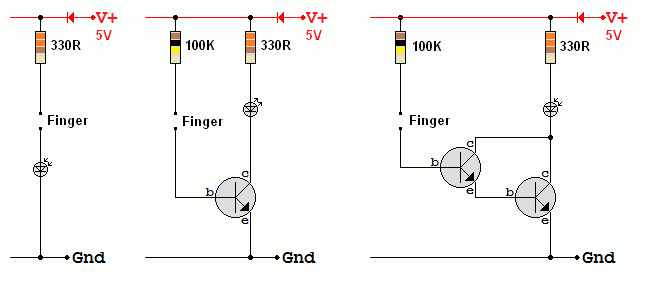 LEFT - Wet finger - doesn't really work:
Light an LED with current flowing through your finger!
Your finger has a high resistance so the current will be tiny.
The LED will not light or perhaps in a very dark room there might be the tiniest glimmer.
MIDDLE - BJT Switch:
Use a bipolar transistor as a current amplifier or switch.
The BC182L amplifies the Base current about 200 to 300 times.
The LED lights, perhaps dimly. You might need to wet your finger.
RIGHT - Darlington Pair:
Combine two transistors multiplying the current by up to 300 x 300 = 90 000.
This works and it's posssibly too sensitive.
Just touching the base wire without touching the resistor still lights the LED. Your body is acting like an antenna and picking up random signals from the environment.
Bipolar Transistor Switch - BC182L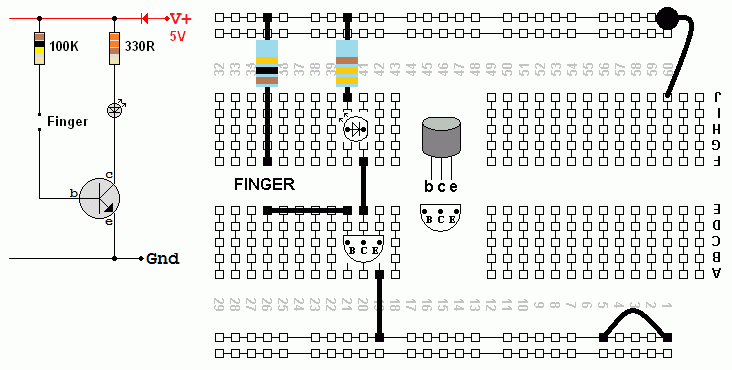 Build this circuit. Use your fingers to bridge the gap as shown. The LED might light dimly. If you have wet or sweaty fingers, it might be brighter.
Darlington Switch - Two BC182L Transistors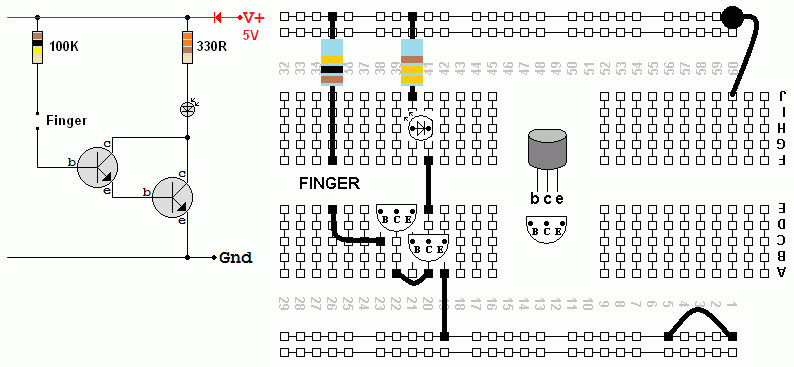 This uses two transistors so the current multiplying effect is much greater
Subject Name Level Topic Name Question Heading First Name Last Name Class ID User ID
Question Text
image url
---
Help Link
Add Delete Clone Edit Hardness
Help Text
Debug
---
You can attempt a question as many times as you like.
If you are logged in, your first attempt, each day, is logged.
To improve your scores, come back on future days, log in and re-do the questions that caused you problems.
If you are logged in, your most recent wrong answers get remembered. This might help you and your teacher to correct your understanding.
In the grade book, you can delete your answers for a topic before re-doing the questions. Avoid deleting unless you intend re-doing the questions very soon.
---