A switch is a passive digital input transducer with a resistance or zero (on) or infinity (off) Ohms.
High Voltage Switch
Switch Properties
Switches are used to make or break a circuit. Here are some common varieties and their names.
NC Normally Closed
NO Normally Open
COM Common or shared connection
Poles correspond to the number of circuits that can be switched.
SPST Single Pole Single Throw (The simplest basic on / off switch)
DPST Double Pole Single Throw (Two of the simplest basic on / off switches)
SPDT Single Pole Double Throw (One change-over switch)
DPDT Double Pole Double Throw (Two change-over switches)
Circuit Diagram Symbols
The diagram shows single and double pole switches.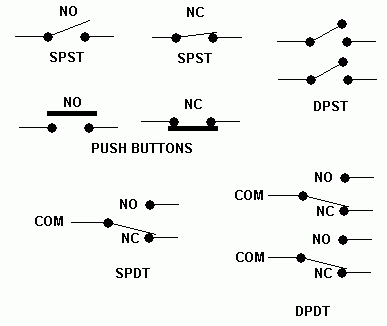 Puzzle
Using two SPDT switches, draw a diagram to show how stair lights work. It should be possible to turn the light on or off both at the top and bottom of the stairs.
Push Button Switch
These come in two varieties: push-to-make (NO) and push-to-break (NC).

Switch Bounce
When a switch is closed, the contacts often bounce causing the circuit to be closed and opened several times until the bouncing has stopped. For something like a lamp or vacuum cleaner, this does not matter at all. In circuits that count pulses, switch bounce can stop the circuit working properly.
The switch needs to be de-bounced and this circuit can be used ...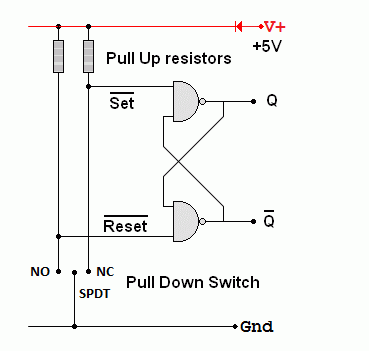 When the switch is pressed,

Reset

goes low.
If the switch bounces, on the first bounce, the flip-flop is reset.
Later bounces have no further effect so the switch bounce has been removed.
When the switch is released,

Set

goes low.
Once again, the first bounce sets the flip-flop.
Later bounces have no effect.
More Debouncing Circuits

The one on the left with the AND gate is less likely to work well.
The NOT gate is also a Schmitt trigger making these circuits more immune to noise.
Subject Name Level Topic Name Question Heading First Name Last Name Class ID User ID
Question Text
image url
---
Help Link
Add Delete Clone Edit Hardness
Help Text
Debug
---
You can attempt a question as many times as you like.
If you are logged in, your first attempt, each day, is logged.
To improve your scores, come back on future days, log in and re-do the questions that caused you problems.
If you are logged in, your most recent wrong answers get remembered. This might help you and your teacher to correct your understanding.
In the grade book, you can delete your answers for a topic before re-doing the questions. Avoid deleting unless you intend re-doing the questions very soon.
---