Attenuation, Dispersion, Latency, Distortion and Noise
Attenuation
Attenuation is the weakening of the signal with distance from the transmitter.
Dispersion
Latency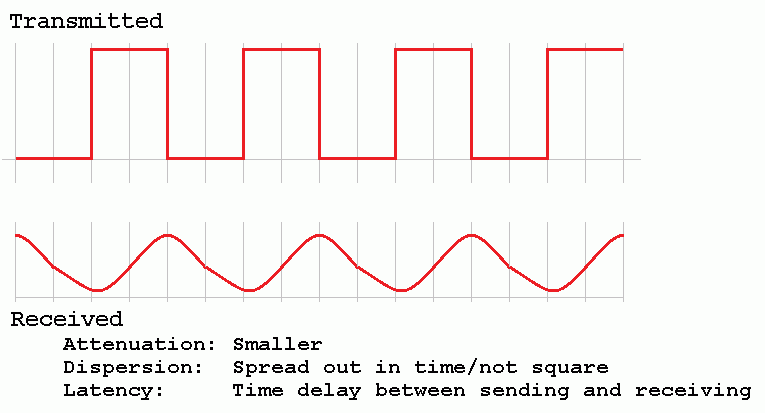 Distortion
Amplifiers should be linear. The output should be exactly proportional to the input. In real life this is hard to achieve so the output is distorted. Two common types of distortion are cross-over distortion with small signal inputs and clipping or limiting with large signal inputs. Dont confuse distortion with noise.
Digital on/off signals are much less likely to get distorted.
Noise
Unwanted signals. It can be a background hiss or cracks and bangs caused by lightning or the switching of industrial machinery. This is impulsive noise. Radio signals often suffer from noise due to unwanted signals leaking into the receiver. FM demodulators ignore the signal amplitude and therefore have better noise immunity then AM receivers. Don't confuse noise with distortion.
Subject Name Level Topic Name Question Heading First Name Last Name Class ID User ID
Question Text
image url
---
Help Link
Add Delete Clone Edit Hardness
Help Text
Debug
---
You can attempt a question as many times as you like.
If you are logged in, your first attempt, each day, is logged.
To improve your scores, come back on future days, log in and re-do the questions that caused you problems.
If you are logged in, your most recent wrong answers get remembered. This might help you and your teacher to correct your understanding.
In the grade book, you can delete your answers for a topic before re-doing the questions. Avoid deleting unless you intend re-doing the questions very soon.
---