To gain access to revision questions, please sign up and log in.
A Sine Wave is an Analogue Signal Containing Only One Frequency
Voltage Time Graph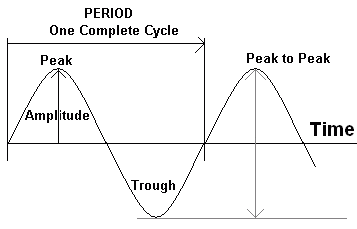 Current Time Graph
The current time graph has the same shape as the one above.
Peak Value
The peak value is the maximum voltage or current reached at the highest or lowest point in the wave. It is measured from the centre line.
Period
The period is the time for one complete cycle of the wave to pass.
Frequency
The frequency is the number of cycles passing in one second.
Frequency = 1 / Period Period = 1 / Frequency
RMS Calculations
Vpeak = 1.4 x Vrms Vrms = 0.7 x Vpeak
reviseOmatic V3 Contacts, ©, Cookies, Data Protection and Disclaimers Hosted at linode.com, London