To gain access to revision questions, please sign up and log in.
Buzzers and Sounders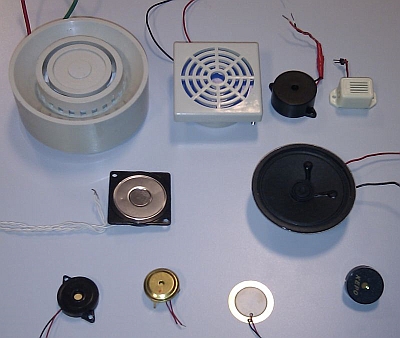 Top Row: Active sounders.

They generate their own sound.
These all need a DC power supply.
DC Driver / Buffer / Switch needed.
Left to right: Very loud - middling - middling - not so loud.

Middle Row: Low power speakers.

Do not generate their own sound.
An audio power amplifier is needed to drive these.
A 64 ohm (left) and an 8 Ohm Speaker (right).
Pleasant sound quality.

Bottom Row: Piezoelectric Sounders.

Do not generate their own sound.
These can be driven with a 555 Astable.
2500 to 4500 Hz are typical frequencies.
Harsh sounding.
Very noticeable.
Sounders
These do not generate their own sound. A separate circuit like an Astable is needed. An audio power amplifier might be needed.
Buzzers
Buzzers convert a Direct Current into a buzzing noise. This can be anything from an unobtrusive warning sound to a deafening noise designed to be heard in very noisy environments.
Some are semi-mechanical. Others use an oscillator circuit to produce an AC signal. This is used to drive a transducer that converts the AC signals into sound energy.
In all cases the sound is produced by a vibrating surface that creates pressure waves in the air (sound).
The vibrating surface can be made of quartz, using the piezoelectric effect or a moving coil can vibrate a paper cone (a loudspeaker).
A bell is a special case. There is a vibrating clapper which strikes the bell.
Designing Sounder or Buzzer Drivers
How loud does it need to be? This is measured in dB, decibels with a sound level meter and it needs to be louder than the background environmental noise.
What voltage does it run on? Check out the data sheet. Test it with a multimeter.
Is AC or DC needed? Check out the data sheet.
How much current flows through the buzzer so what kind of transducer driver do you need? Measure the buzzer current with a multimeter.
Is the device inductive (does it use an electromagnet)? If so, the transducer driver circuit must be protected against Back EMF.
reviseOmatic V3 Contacts, ©, Cookies, Data Protection and Disclaimers Hosted at linode.com, London