To gain access to revision questions, please sign up and log in.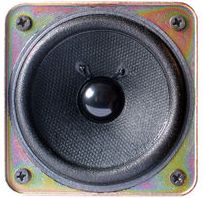 Speakers have a moving coil suspended in a strong magnetic field. When alternating currents flow in the speaker's moving coil, forces are produced which cause the paper cone to vibrate in step with the alternating currents. The paper cone movements cause the surrounding air to move and sound waves are produced.
This diagram shows the structure of a speaker. Its structure is identical to a moving coil microphone but the speaker is much bigger and able to handle large currents to make loud sounds.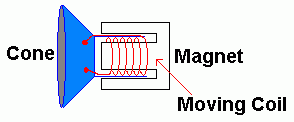 Loudspeakers emit sound when an alternating current passes through them. The air pressure waves produced by the speaker are proportional to the current flowing through the speaker.
Loudspeakers are ...
OUTPUT transducers
called woofers when they are big and they work best between 20Hz and 400 Hz
called tweeters when they are tiny and they work best above 2kHz
called mid range units if they are optimised for reproducing the human voice between 300Hz and 3000 Hz
Telephones and cheap radios have a single mid range speaker
HiFi speakers usually include all three types mentioned above
Earphones are just small speakers designed to fit in the ear.
reviseOmatic V3 Contacts, ©, Cookies, Data Protection and Disclaimers Hosted at linode.com, London