GCSE
Capacitors























Questions 0 to 22
-->
View All
A coupling capacitor passes AC signals and blocks DC Potentials.
If an AC signal such as audio or radio needs to be coupled from one sub-system to the next, a coupling capacitor is often needed.
If the DC output level of the first sub-system is the same as the DC input level of the input of the next sub-system, a wire can be used. In all other cases, a coupling capacitor is needed.
Microphone Amplifier Example
In this circuit, V+ is 12 Volts
The op amp input on pin 3 is held at 6 Volts (average) by a Voltage divider circuit.
The electret microphone DC output on pin 1 is about 2 Volts.
The audio AC signal from the microphone is tiny, perhaps 20 millivolts.
The 470nF capacitor couples the tiny audio signal and blocks the larger DC Voltage levels.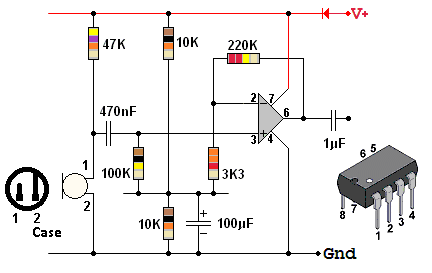 Subject Name Level Topic Name Question Heading First Name Last Name Class ID User ID
Question Text
image url
---
Help Link
Add Delete Clone Edit Hardness
Help Text
Debug
---
You can attempt a question as many times as you like.
If you are logged in, your first attempt, each day, is logged.
To improve your scores, come back on future days, log in and re-do the questions that caused you problems.
If you are logged in, your most recent wrong answers get remembered. This might help you and your teacher to correct your understanding.
In the grade book, you can delete your answers for a topic before re-doing the questions. Avoid deleting unless you intend re-doing the questions very soon.
---