GCSE
Capacitors























Questions 0 to 22
-->
View All
In your project report, you have to describe how your circuit works. If your circuit contains a capacitor, one or more of the following explanations should be useful.
Timing

R C timing circuits use a resistor and a capacitor for timing purposes.
The capacitor charges through the resistor.
A bigger resistor will make the capacitor take longer to charge.
Also a bigger capacitor will take longer to charge.

Coupling

A capacitor connecting two subsystems.
Also known as a DC blocking capacitor.
Couple an AC signal from one subsystem to the next.
Prevent DC potentials from being coupled from one subsystem to the next.

Decoupling

Remove unwanted AC signals from the circuit.
One capacitor leg is connected to ground and any AC signals are passed straight to ground.

Smoothing

DC power supplies produce lumpy DC.
The smoothing capacitor stores enough charge to smooth out the lumps.
Smoothing capacitors are often very big.
To improve the smoothing effect, use a bigger capacitor.
Smoothing is really the same as decoupling. You want to remove the unwanted AC ripple.

Frequency Filtering

This is an A Level topic but many GCSE and AS projects might need to take this into consideration.
Since capacitors pass high frequencies and block low ones and DC, they can be used to filter low or high frequencies.
Capacitors can be wired up to couple (pass) or decouple (block) higher frequencies.

Tuning

When combined with an inductor, a tuned circuit is formed.
This is used in radio tuning to select the wanted signal and reject others.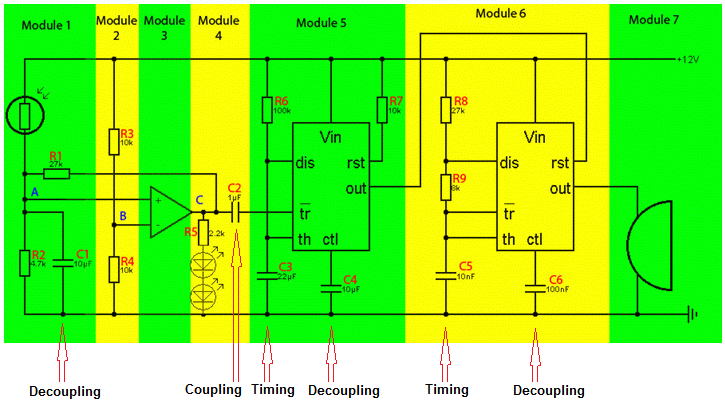 Subject Name Level Topic Name Question Heading First Name Last Name Class ID User ID
Question Text
image url
---
Help Link
Add Delete Clone Edit Hardness
Help Text
Debug
---
You can attempt a question as many times as you like.
If you are logged in, your first attempt, each day, is logged.
To improve your scores, come back on future days, log in and re-do the questions that caused you problems.
If you are logged in, your most recent wrong answers get remembered. This might help you and your teacher to correct your understanding.
In the grade book, you can delete your answers for a topic before re-doing the questions. Avoid deleting unless you intend re-doing the questions very soon.
---