GCSE
Transducers













Questions 0 to 12
-->
View All
Input: Electric current
Output: Mechanical movement in a straight line.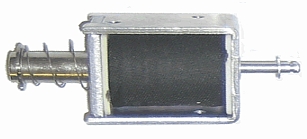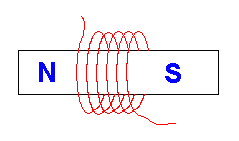 Here is a simple example.
Inside the metal frame, there is a coil of copper wire.
When a current is passed through the coil, it becomes
magnetised and the moveable iron core is pulled into the coil.
Solenoids are electromagnets.
They usually have an iron core which greatly increases the magnetic effect of the coil.
The magnetic effect is used to produce straight line motion.
Solenoids can be spring loaded so when the current is turned off, the moving part returns to its "off" position.
Stroke Distance: The size of the movement when the solenoid is turned on.
Force: For example, the solenoid must produce enough force (in Newtons) to operate the valve.
This movement can be used to ...
operate valves to control liquid flow (hydraulic control systems)
operate valves to control gas flow (pneumatic control systems)
lock or unlock doors
relays are a type of solenoid where the movement is used to operate a switch
create vibrations, perhaps to ring a bell
create vibrations because your phone is set to "silent".
Solenoid Driver Circuit
Solenoids are inductive (contain an electromagnet) and they produce a large back EMF if the current flowing is suddenly turned off. To prevent this, put a diode in parallel with the solenoid. This allows the current to die away slowly and the large back EMF is prevented. This also prevents damage to the driver circuit controlling the solenoid.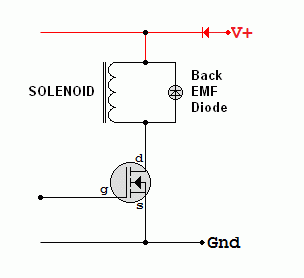 In this simulation, note the slow current build-up and decay through the diode.
Subject Name Level Topic Name Question Heading First Name Last Name Class ID User ID
Question Text
image url
---
Help Link
Add Delete Clone Edit Hardness
Help Text
Debug
---
You can attempt a question as many times as you like.
If you are logged in, your first attempt, each day, is logged.
To improve your scores, come back on future days, log in and re-do the questions that caused you problems.
If you are logged in, your most recent wrong answers get remembered. This might help you and your teacher to correct your understanding.
In the grade book, you can delete your answers for a topic before re-doing the questions. Avoid deleting unless you intend re-doing the questions very soon.
---