GCSE
Transducers













Questions 0 to 12
-->
View All
Small signals from processing devices often need to be boosted by a DRIVER before connection to an output transducer.
For example, street lights might be controlled by a small light sensor connected to a 40106 chip. This chip has a maximum output current of around 10mA at 5 Volts DC. The street lamps probably run on 230 Volts AC with a current of 400mA per light.
INPUT - The input sensor is the LDR.
PROCESS - The Schmitt NOT gate is the processor.
DRIVER - The transistor switch is a driver. The relay could also classed as a driver.
OUTPUT - In this case, the lamps are the output transducers. They convert electrical energy into light.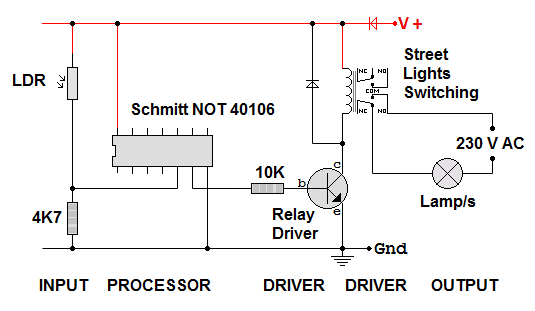 A light sensing voltage divider made from the LDR and 4K7 resistor is connected to the Schmitt NOT gate. On its own this can't drive the street lights. It can't even drive the relay.
The NPN transistor acts as a switch, turning the relay on or off.
The relay is capable of switching the 230 V AC current for the street lights.
Subject Name Level Topic Name Question Heading First Name Last Name Class ID User ID
Question Text
image url
---
Help Link
Add Delete Clone Edit Hardness
Help Text
Debug
---
You can attempt a question as many times as you like.
If you are logged in, your first attempt, each day, is logged.
To improve your scores, come back on future days, log in and re-do the questions that caused you problems.
If you are logged in, your most recent wrong answers get remembered. This might help you and your teacher to correct your understanding.
In the grade book, you can delete your answers for a topic before re-doing the questions. Avoid deleting unless you intend re-doing the questions very soon.
---