GCSE
Picaxe Flow Chart Programming













Questions 0 to 12
-->
View All
Manuals >>>> Getting Started BASIC Commands Interfacing Flowcharts
These pages give you a quick start in Microcontroller Flow Chart Programming using the lowest cost starter kit.
>>>> Read more about Microcontrollers here.
Picaxe have an excellent collection of GETTING STARTED pages and the MANUALS are essential reading!
PICAXE-08 Starter Kit - Website

Picaxe provide microcontrollers with special powers. The bare microcontrollers come from microchip.com. The program added by Picaxe allows the chip to carry out many interesting tasks. Programming the bare chip is not so easy so the Picaxe modifications are a real help. This collection of pages demonstrates some of the abilities of Picaxe.
Detect switch presses
Play tunes
Measure data from sensors such as light and temperature
Light up LEDs
Display text
Control motors and robotic devices
Plenty more ...
A Level year 2 students should dive in and learn how to program the bare chip without the Picaxe extras.
The Kit and USB Cable
The kit comes with a suitable USB to Serial Port cable.
These cables are not all the same so it's worth getting the correct one from Picaxe.
It uses drivers from www.picaxe.com/axe027.
>>>> RTFM - Read the instruction manual because you do not want to use the default Windows drivers.
Assembled Kit - Pinout
The kit was assembled so it can plug onto a prototype board and be powered from the board or via jumper cables. It took two attempts. The second version used colour coded cables making it less likely to make wiring errors. Thats why the soldering looks messy!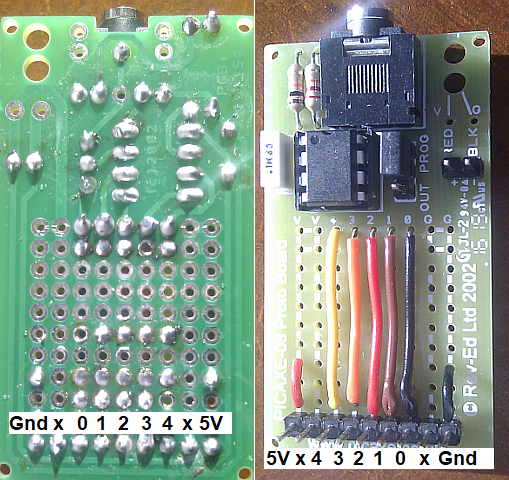 Build Your Own

Subject Name Level Topic Name Question Heading First Name Last Name Class ID User ID
Question Text
image url
---
Help Link
Add Delete Clone Edit Hardness
Help Text
Debug
---
You can attempt a question as many times as you like.
If you are logged in, your first attempt, each day, is logged.
To improve your scores, come back on future days, log in and re-do the questions that caused you problems.
If you are logged in, your most recent wrong answers get remembered. This might help you and your teacher to correct your understanding.
In the grade book, you can delete your answers for a topic before re-doing the questions. Avoid deleting unless you intend re-doing the questions very soon.
---