GCSE
Picaxe Flow Chart Programming













Questions 0 to 12
-->
View All
Manuals >>>> Getting Started BASIC Commands Interfacing Flowcharts
Input - Measure a sensor using the ADC to read the analogue input and convert to digital.
Process - Convert the ADC binary number reading into three text characters so 123 becomes "1", "2", "3"
Output - Display the text characters on the OLED display.
This makes quite a nice project. Measure something and display the measurement. It's quite easy to add features like playing different alarm sounds if the input reading is too large or too small. This example uses an LDR. A thermistor could be used instead to measure temperature.
Instead of displaying the measurement, you could activate outputs instead. For examlple turn on the lights when it gets dark or activate the icy road warning if it gets cold.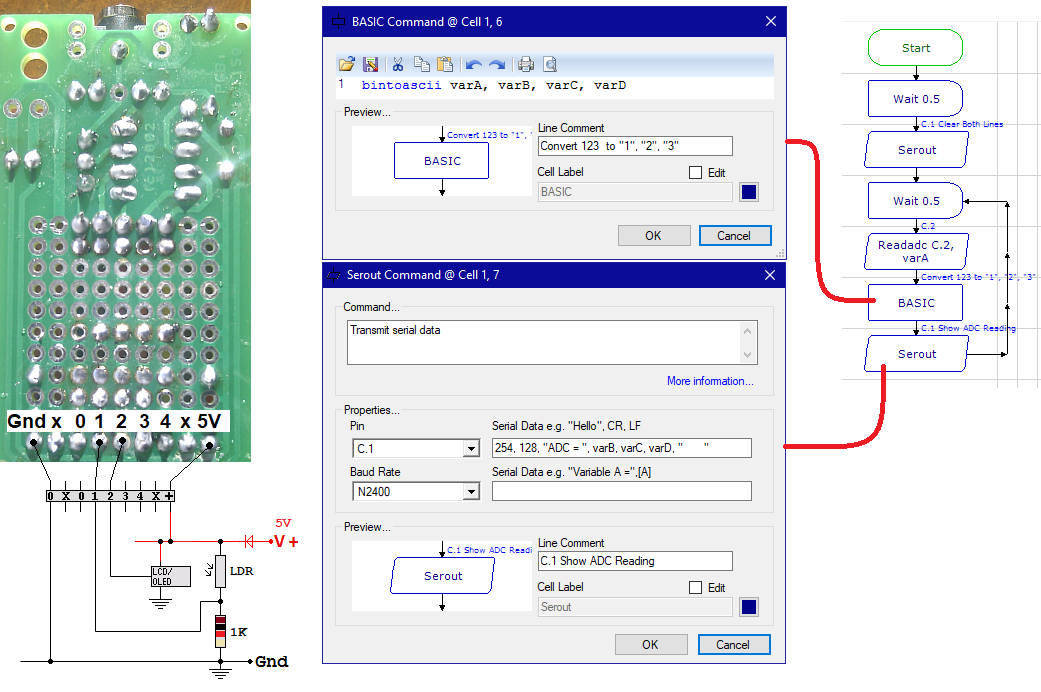 The diode protects against reverse power connections.
The 1K resistor and the LDR make a voltage divider.
It the light gets brighter, the LDR resistance gets less and the output voltage to C.1 goes up.
This gives a larger number on the OLED display.
The OLED numbers can go from 000 to 255.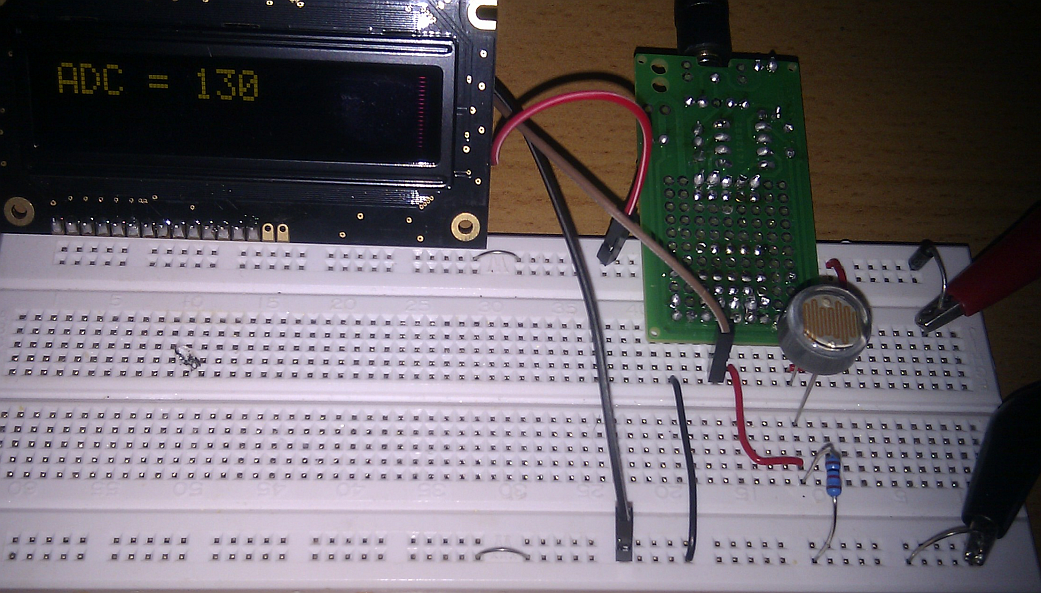 Alternative Sensors
A thermistor for temperature - make a thermometer or temperature warning alert.
A humidity sensor - sense the humidity
A skin resistance sensor - this has potential comedy value - generate a variety of text insults based on the skin measurement.
Subject Name Level Topic Name Question Heading First Name Last Name Class ID User ID
Question Text
image url
---
Help Link
Add Delete Clone Edit Hardness
Help Text
Debug
---
You can attempt a question as many times as you like.
If you are logged in, your first attempt, each day, is logged.
To improve your scores, come back on future days, log in and re-do the questions that caused you problems.
If you are logged in, your most recent wrong answers get remembered. This might help you and your teacher to correct your understanding.
In the grade book, you can delete your answers for a topic before re-doing the questions. Avoid deleting unless you intend re-doing the questions very soon.
---