GCSE
Picaxe Flow Chart Programming













Questions 0 to 12
-->
View All
Manuals >>>> Getting Started BASIC Commands Interfacing Flowcharts
Input - A voltage depending on the finger touching the probe.
Process - Test the ADC output
Output - Display text messages depending on the ADC output
The 10 Megohm resistor is a pull down. If no one is touching the probe, the voltage will drop to zero and the "Touch the probe" message will be displayed.
This flow charts tests varA and produces a text message depending on the result. It's possible to have many more messages by using a number range smaller than 64.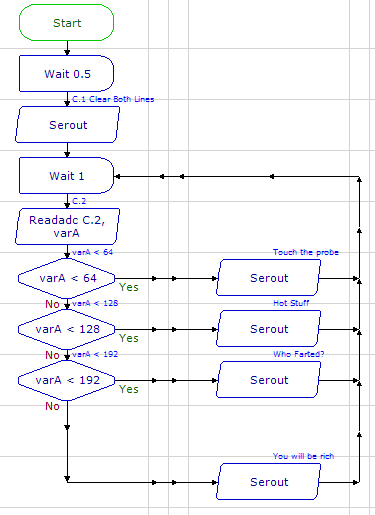 Subject Name Level Topic Name Question Heading First Name Last Name Class ID User ID
Question Text
image url
---
Help Link
Add Delete Clone Edit Hardness
Help Text
Debug
---
You can attempt a question as many times as you like.
If you are logged in, your first attempt, each day, is logged.
To improve your scores, come back on future days, log in and re-do the questions that caused you problems.
If you are logged in, your most recent wrong answers get remembered. This might help you and your teacher to correct your understanding.
In the grade book, you can delete your answers for a topic before re-doing the questions. Avoid deleting unless you intend re-doing the questions very soon.
---