To gain access to revision questions, please sign up and log in.
This tone control combines adjustable low and high pass filters.
If the treble 100k linear pot' is adjusted with the slider all the way to the left, more high frequency signal reaches the inverting input through the 560pF capacitor. Also less high frequency negative feedback reaches the inverting input. This gives treble boost.

If the slider is adjusted to the right, less high frequency input reaches the inverting input and there is more high frequency negative feedback. This causes treble cut.

The bass 100k linear pot works in a similar way but the low frequency signals are affected giving bass cut or boost.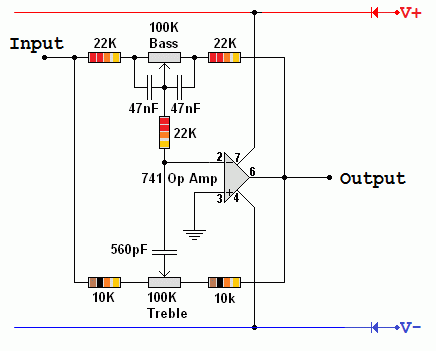 reviseOmatic V3 Contacts, ©, Cookies, Data Protection and Disclaimers Hosted at linode.com, London