To gain access to revision questions, please sign up and log in.
Some older personal computers have a Parallel/Printer Port. This port is falling into disuse and USB is replacing it but USB to parallel port converters are available.
Running an older operating system like MS-DOS and programming in QBASIC, it is quite easy to use older hardware for control systems. Tasks like data logging are easier because the computer has disk storage.
Parallel Port Pinout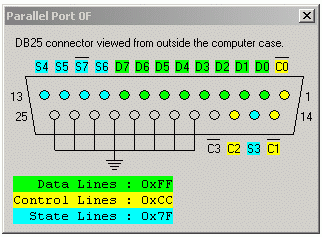 Parallel Port Features ...
The port uses a 25 pin D connector (DB25 - diagram above)
The parallel port is a memory mapped device
It is often called the printer port or LPT1
LPT stands for Line Printer
Three addresses are used
Address 37816 is connected to eight output pins called D0, D1, D2, D3, D4, D5, D6, D7
Address 37916 is connected to five input signal pins called S3, S4, S5, S6, S7
Address 37A16 is connected to four input control pins called C0, C1, C2, C3
The 16 means the number is hexadecimal.
If the port can be configured to be bi-directional so D0 to D7 can also be inputs.
reviseOmatic V3 Contacts, ©, Cookies, Data Protection and Disclaimers Hosted at linode.com, London