To gain access to revision questions, please sign up and log in.
A Digital or Switch Mode Amplifier
Analogue circuits are less efficient and produce more waste heat that digital circuits.
The Class D Amplifier converts analogue audio into a switched pulse width modulated digital signal at a frequency well above the range of human hearing (at least 44kHz). The amplifier works with close to 100%efficiency. The high frequency information is filtered out before the output is fed to the loudspeakers.
This circuit and simulation is running over 100 times slower than a real audio amplifier.
The triangle wave frequency should be well above 44 kHz so the coupling capacitor could be much smaller at 1 µF.
The load resistance would be 8 Ω speakers.
A low pass filter should be placed between the amplifier and speakers to remove the 44 kHz component.
This circuit seems to be difficult to build in real life.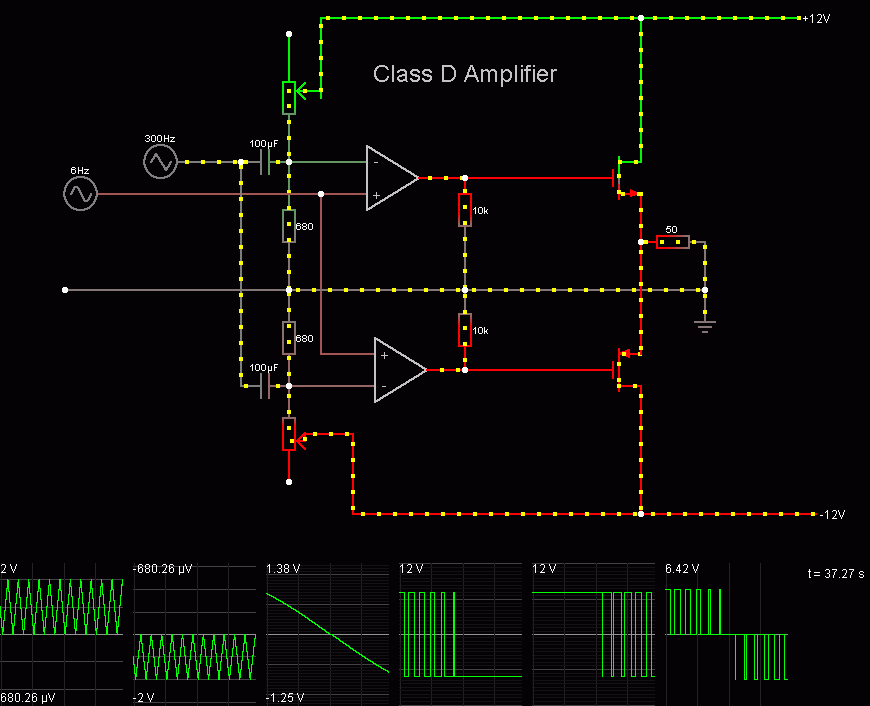 For the Falstad Circuit Simulation, CTRL+Click Class D Amplifier
In options, check European Resistors and uncheck Conventional Current.
Use the sliders to adjust the bias.

Alternatively view Class_D_Amplifier.txt.
Save or copy the text on the web page. Import the saved or copied text into the Falstad simulator.

Here is the new HTML5 Simulator Site.
reviseOmatic V3 Contacts, ©, Cookies, Data Protection and Disclaimers Hosted at linode.com, London