To gain access to revision questions, please sign up and log in.
433.92 MHz FM Data Transmitter
433.90 MHz (TTL High Input)
433.94 MHz (TTL Low Input)

The low and high pulses are encoded with frequency shift keying.
A possibly student-proof module.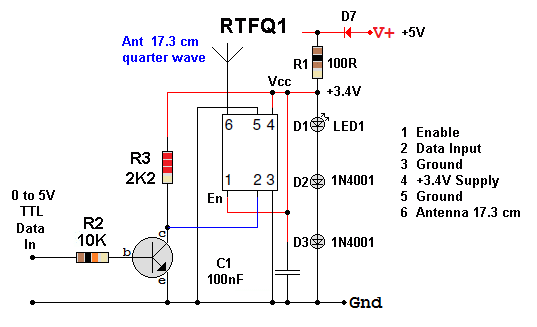 R2 limits the input current to a low level
The transistor (BC182L) buffers the input and pulls the data input low when the TTL input is high.
R3 is a pull up resistor.
C1 is a decoupling capacitor.
D1, D2 and D3 act like a Zener diode to prevent the potential on pin 4 (the power supply) rising above 3.4 Volts.
R1 limits the power supply current to about 16mA. The RTFQ module takes about 8mA and the LED circuit takes the rest.
D7 is a polarity protection diode.
reviseOmatic V3 Contacts, ©, Cookies, Data Protection and Disclaimers Hosted at linode.com, London