To gain access to revision questions, please sign up and log in.
y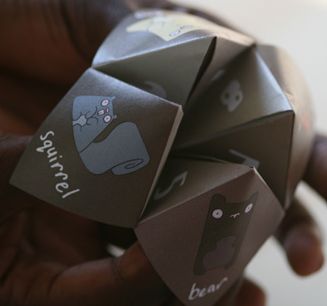 Here is an electronic simulation of this traditional school playground game.
You touch the probe and depending on your skin resistance, a semi random message or minor insult or complement is displayed.
You might want a safe/funny switch so you can show the device to your parents or the school principal without getting expelled.
The safe setting will give pleasant tame messages.
The funny setting - well use your imagination.
GET THE CODE RIGHT and read the disclaimers for this website!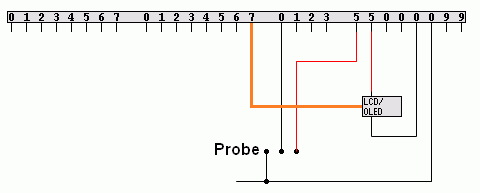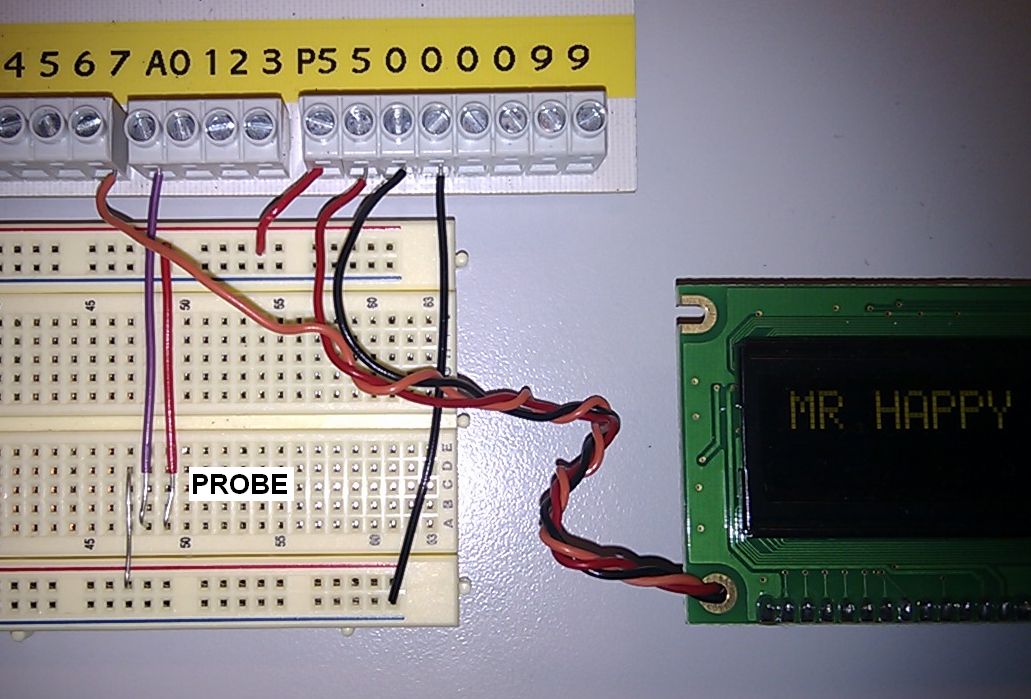 Insult Game Code
    setfreq m4
    pause   500             ' Allow time to boot up

start:
    pause 2000
    CALL blank

    readadc 0,b2

    if b2 >=250 then goto _250
    if b2 >=240 then goto _240
    if b2 >=230 then goto _230
    if b2 >=220 then goto _220
    if b2 >=210 then goto _210
    if b2 >=200 then goto _200
    if b2 >=190 then goto _190
    if b2 >=180 then goto _180
    if b2 >=170 then goto _170
    if b2 >=160 then goto _160
    if b2 >=150 then goto _150
    if b2 >=140 then goto _140
    if b2 >=130 then goto _130
    if b2 >=120 then goto _120
    if b2 >=110 then goto _110
    if b2 >=100 then goto _100
    if b2 >= 90 then goto _90
    if b2 >= 80 then goto _80
    if b2 >= 70 then goto _70
    if b2 >= 60 then goto _60
    if b2 >= 50 then goto _50
    if b2 >= 40 then goto _40
    if b2 >= 30 then goto _30
    if b2 >= 20 then goto _20
    if b2 >= 10 then goto _10
    if b2 >=  0 then goto _0

_250:
    serout 7, N2400, (254, 128)            ' First Line
    serout 7, N2400, ("===== HOT ======")  ' Fill all 16 characters
    goto   start

_240:
    serout 7, N2400, (254, 128)            ' First Line
    serout 7, N2400, ("===== GOD ======")  ' Fill all 16 characters
    goto   start

_230:
    serout 7, N2400, (254, 128)            ' First Line
    serout 7, N2400, ("== CHAV ALERT ==")  ' Fill all 16 characters
    goto   start

_220:
    serout 7, N2400, (254, 128)            ' First Line
    serout 7, N2400, ("== SUPER STUD ==")  ' Fill all 16 characters
    goto   start

_210:
    serout 7, N2400, (254, 128)            ' First Line
    serout 7, N2400, ("SWEATY FINGERS  ")  ' Fill all 16 characters
    goto   start

_200:
    serout 7, N2400, (254, 128)            ' First Line
    serout 7, N2400, ("YOU ARE HOT     ")  ' Fill all 16 characters
    goto   start

_190:
    serout 7, N2400, (254, 128)            ' First Line
    serout 7, N2400, ("SAD PERSON      ")  ' Fill all 16 characters
    goto   start

_180:
    serout 7, N2400, (254, 128)            ' First Line
    serout 7, N2400, ("YOU ARE JOKING  ")  ' Fill all 16 characters
    goto   start

_170:
    serout 7, N2400, (254, 128)            ' First Line
    serout 7, N2400, ("HEY FATNESS     ")  ' Fill all 16 characters
    goto   start

_160:
    serout 7, N2400, (254, 128)            ' First Line
    serout 7, N2400, ("MINGER          ")  ' Fill all 16 characters
    goto   start

_150:
    serout 7, N2400, (254, 128)            ' First Line
    serout 7, N2400, ("PWNED           ")  ' Fill all 16 characters
    goto   start

_140:
    serout 7, N2400, (254, 128)            ' First Line
    serout 7, N2400, ("MMMMM TASTY     ")  ' Fill all 16 characters
    goto   start

_130:
    serout 7, N2400, (254, 128)            ' First Line
    serout 7, N2400, ("YOU SMELL       ")  ' Fill all 16 characters
    goto   start
 
_120:
    serout 7, N2400, (254, 128)            ' First Line
    serout 7, N2400, ("WINNER          ")  ' Fill all 16 characters
    goto   start

_110:
    serout 7, N2400, (254, 128)            ' First Line
    serout 7, N2400, ("YOU WILL BE RICH")  ' Fill all 16 characters
    goto   start

_100:
    serout 7, N2400, (254, 128)            ' First Line
    serout 7, N2400, ("YOU WILL BE POOR")  ' Fill all 16 characters
    goto   start

_90:
    serout 7, N2400, (254, 128)            ' First Line
    serout 7, N2400, ("YOU'RE DOOMED   ")  ' Fill all 16 characters
    goto   start

_80:
    serout 7, N2400, (254, 128)            ' First Line
    serout 7, N2400, ("DON'T PANIC    ")  ' Fill all 16 characters
    goto   start

_70:
    serout 7, N2400, (254, 128)            ' First Line
    serout 7, N2400, ("STUPID BOY      ")  ' Fill all 16 characters
    goto   start

_60:
    serout 7, N2400, (254, 128)            ' First Line
    serout 7, N2400, ("LOOK BEHIND YOU!")  ' Fill all 16 characters
    goto   start

_50:
    serout 7, N2400, (254, 128)            ' First Line
    serout 7, N2400, ("YOU ARE GAY     ")  ' Fill all 16 characters
    goto   start

_40:
    serout 7, N2400, (254, 128)            ' First Line
    serout 7, N2400, ("WHO FARTED      ")  ' Fill all 16 characters
    goto   start

_30:
    serout 7, N2400, (254, 128)            ' First Line
    serout 7, N2400, ("MR HAPPY        ")  ' Fill all 16 characters
    goto   start

_20:
    serout 7, N2400, (254, 128)            ' First Line
    serout 7, N2400, ("SQUARE PANTS    ")  ' Fill all 16 characters
    goto   start

_10:
    serout 7, N2400, (254, 128)            ' First Line
    serout 7, N2400, ("PROPER          ")  ' Fill all 16 characters
    goto   start

_0:
    serout 7, N2400, (254, 128)            ' First Line
    serout 7, N2400, ("TOUCH THE PROBE!")  ' Fill all 16 characters
    goto   start

blank:
    serout 7, N2400, (254, 128)            ' First Line
    serout 7, N2400, ("                ")
    serout 7, N2400, (254, 192)            ' Second Line
    serout 7, N2400, ("                ")
    RET

reviseOmatic V3 Contacts, ©, Cookies, Data Protection and Disclaimers Hosted at linode.com, London