To gain access to revision questions, please sign up and log in.
A More Versatile Display
Advantages: More character shapes can be displayed compared with seven segment displays.
Disadvantages: Multiplexing is slightly more complex. Each column is on for 20% of the time so the LEDs might be dimmer.
LED Matrix Pin Out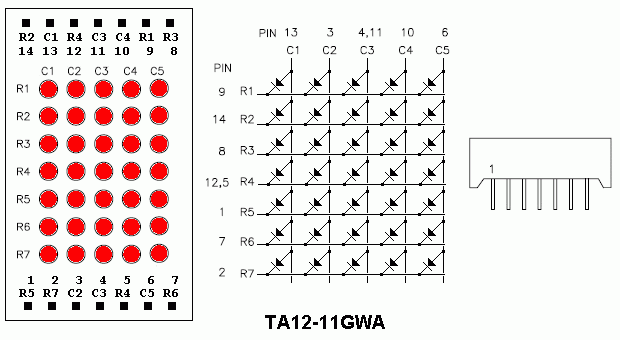 A Possible LED Matrix Circuit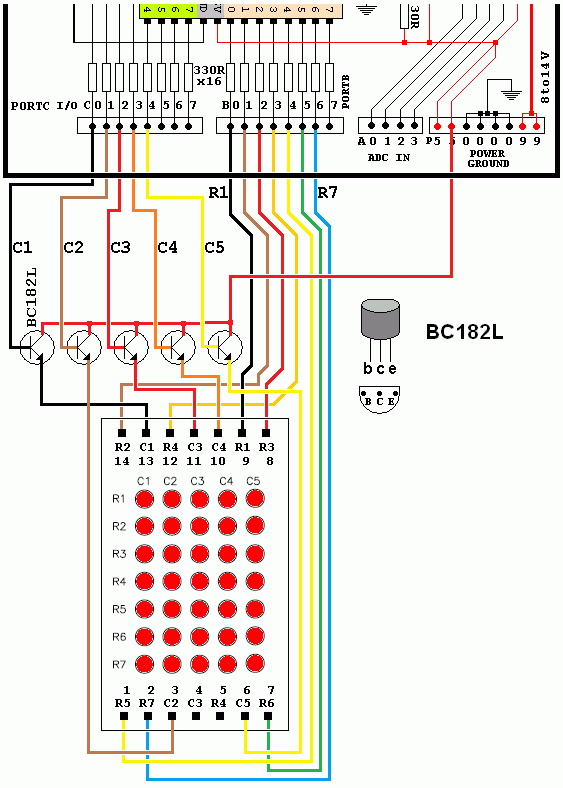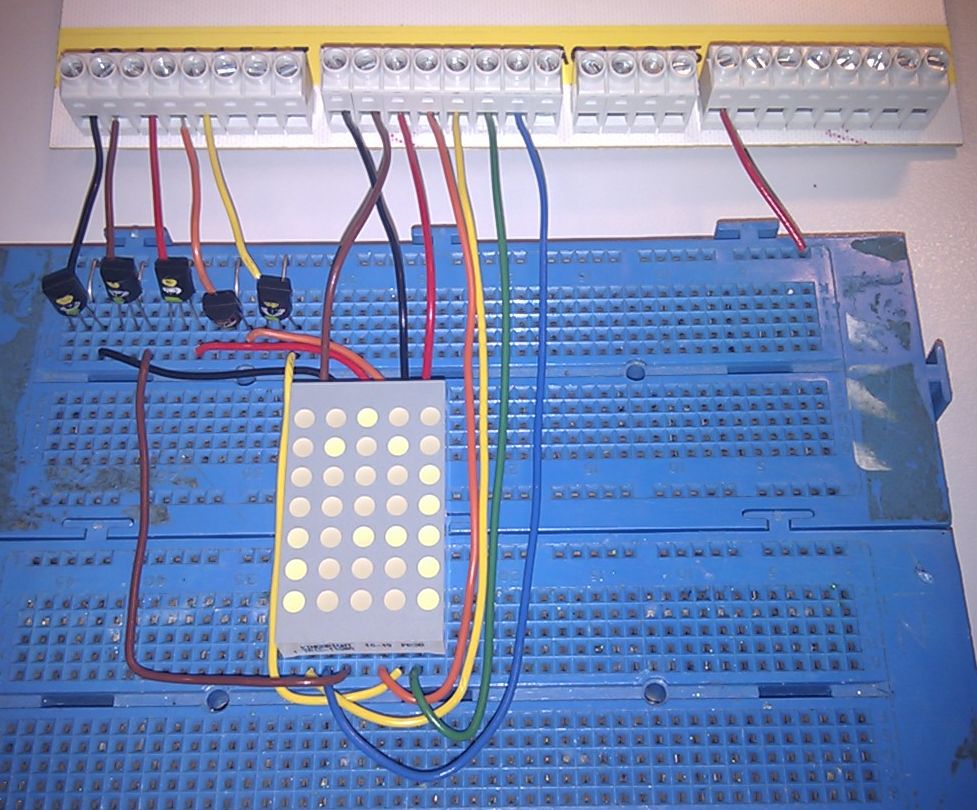 The LED Matrix above is displaying a letter "B". The camera shutter was not open for long enough to capture all the lit LEDs.
Picaxe (AQA) Code
INIT:
	SETFREQ EM16
	MOVW	0X00	; CONFIGURE 8 OUTPUT PINS
	MOVWR	TRISC	; PORTC PINS ARE ALL OUTPUTS
	MOVWR   TRISB	; PORTB PINS ARE ALL OUTPUTS
	
MAIN:
	CALL	AA
	CALL	AA
	CALL	AA
	CALL	AA
	CALL	AA
	CALL	AA
	CALL	AA
	CALL	AA
	CALL	AA
	CALL	AA
	CALL	AA
	CALL	AA
	CALL	AA
	CALL	AA
	CALL	AA
	CALL	AA
	CALL	AA
	CALL	AA
	CALL	AA
	CALL	AA
	CALL	BB
	CALL	BB
	CALL	BB
	CALL	BB
	CALL	BB
	CALL	BB
	CALL	BB
	CALL	BB
	CALL	BB
	CALL	BB
	CALL	BB
	CALL	BB
	CALL	BB
	CALL	BB
	CALL	BB
	CALL	BB
	CALL	BB
	CALL	BB
	CALL	BB
	CALL	BB
	CALL	CC
	CALL	CC
	CALL	CC
	CALL	CC
	CALL	CC
	CALL	CC
	CALL	CC
	CALL	CC
	CALL	CC
	CALL	CC
	CALL	CC
	CALL	CC
	CALL	CC
	CALL	CC
	CALL	CC
	CALL	CC
	CALL	CC
	CALL	CC
	CALL	CC
	CALL	CC
	JMP	MAIN
	
; =====================================================
; -00000--  0X83
; ---0--0-  0XED
; ---0---0  0X11
; ---0--0-  0X12
; -00000--  0X83
; =====================================================
AA:	
	PINSC = 0X1
	PINS  = 0X83
	PAUSE 20
	
	PINSC = 0X2
	PINS  = 0XED
	PAUSE 20

	PINSC = 0X4
	PINS  = 0XEE
	PAUSE 20

	PINSC = 0X8
	PINS  = 0XED
	PAUSE 20

	PINSC = 0X10
	PINS  = 0X83
	PAUSE 20
	
	RET
; =====================================================
; -0000000  0X80
; -0--0--0  0XB6
; -0--0--0  0XB6
; --00-00-  0XC9
; --------  0XFF
; =====================================================
BB:	
	PINSC = 0X1
	PINS  = 0X80
	PAUSE 20
	
	PINSC = 0X2
	PINS  = 0XB6
	PAUSE 20

	PINSC = 0X4
	PINS  = 0XB6
	PAUSE 20

	PINSC = 0X8
	PINS  = 0XC9
	PAUSE 20

	PINSC = 0X10
	PINS  = 0XFF
	PAUSE 20
	
	RET
; =====================================================
; --00000-  0XC1
; -0-----0  0XBE
; -0-----0  0XBE
; --0---0-  0XDD
; --------  0XFF
; =====================================================
CC:	
	PINSC = 0X1
	PINS  = 0XC1
	PAUSE 20
	
	PINSC = 0X2
	PINS  = 0XBE
	PAUSE 20

	PINSC = 0X4
	PINS  = 0XBE
	PAUSE 20

	PINSC = 0X8
	PINS  = 0XDD
	PAUSE 20

	PINSC = 0X10
	PINS  = 0XFF
	PAUSE 20
	
	RET
; =====================================================
reviseOmatic V3 Contacts, ©, Cookies, Data Protection and Disclaimers Hosted at linode.com, London