To gain access to revision questions, please sign up and log in.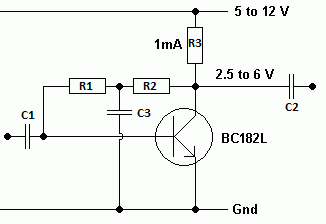 This can be used as an audio pre-amplifier. Normally an op amp would be used. This does not need a negative supply and could work on lower voltages than an op amp needs. A field effect transistor would have a higher input resistance.
For a 12 volt supply ...
The collector voltage should be 6 volts. Calculate R3.

For 1 mA to flow ...
R3 = V / I = 6 / 0.001 = 6kΩ.

A typical BC182L has a current gain of 300 so the base current needs to be 1/300 mA = 3.3 µA.
Calculate R1 + R2.

The voltage across this pair is 6 - 0.7 = 5.3 Volts.
R = V / I = 5.3 / 3.3x10-6 = 1.6MΩ.
R1 = R2 = 800 kΩ.

C1 = 470 nF
C2 = 10 µF
C3 = 20 nF
reviseOmatic V3 Contacts, ©, Cookies, Data Protection and Disclaimers Hosted at linode.com, London