To gain access to revision questions, please sign up and log in.
This radio has a very simple but much better A.M. Demodulator.
This receiver solves a few problems with the simplest design but it needs a 5 to 12 volt supply.
The simplest radio using a diode to demodulate the AM needs quite a large signal to get a current flowing through the diode.

For a silicon diode it is 0.7 volts.
A germanium diode is better because the voltage is 0.2 volts.
Below there is a clamp circuit. It behaves like a diode by chopping the AM signal in half but the voltage needed to get it working is close to zero. This is more sensitive and the sound quality is better. The potentiometer is adjusted for best sound quality. It is used to bias the transistor so it is just on the brink of conducting.
The ferrite rod was purchased from Maplin with pre-wound coils. You could easily wind your own with or without a ferrite rod.
The long wire antenna was about 40 metres long.
The BC182L works well enough. For alternative devices, look for a high forward-beta to reverse-beta ratio.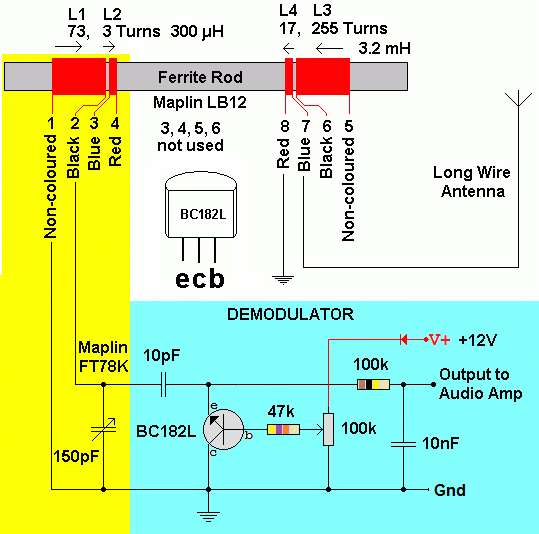 reviseOmatic V3 Contacts, ©, Cookies, Data Protection and Disclaimers Hosted at linode.com, London